After a woman was killed when she fell into the path of an oncoming subway on Saturday July 12th, NYPD Captain Thomas C. Harnisch of the 25th Precinct jumped at the chance to start trolling street safety activist Keegan Stephan, according to Streets Blog NYC.
It all started when Captain Harnisch tweeted a link from his personal account to the CBS news story reporting the incident, along with the comment, "Let me guess, driver's fault right?"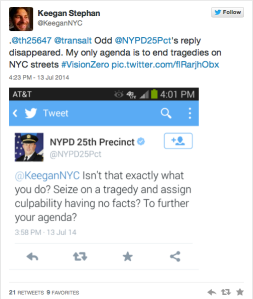 The tweet, sent to the Transportation Alternatives and street safety activist Keegan Stephan, ignited an all-out twitter battle.
"A woman is dead and you are using this as an opportunity to criticize our attempts to save lives?" Mr. Stephan retorted.
"Isn't that what you do? Seize on a tragedy and assign culpability having no facts? To further your agenda?" Captain Harnisch spat back, this time from the 25th Precinct's official Twitter account.
However, Captain Harnisch underestimated the power of Twitter, and a quick Mr. Stephan posted screenshots of the since-deleted tweets.
Soon after, NYPD Deputy Commissioner for Strategic Initiatives Zach Tumin reached out to Mr. Stephan and apologized on behalf of the NYPD. At around 5:30 p.m. Monday, Captain Harnisch did the same, tweeting an apology from the 25th Precinct's official account.
Captain Harnisch was one of the first few precinct commanders to obtain an official Twitter account as part of the NYPD's effort to utilize social media (remember #myNYPD?).
Back in May, when Captain Harnisch first took to Twitter, he told the the Daily News: "It's been fun."