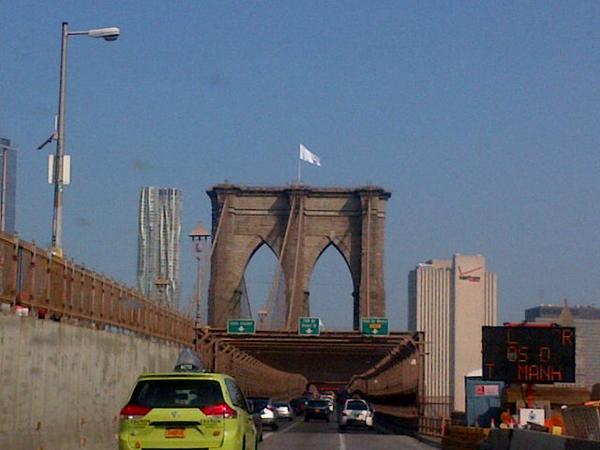 NYC's young people are continuing to scale large city structures.
According to the Daily News, a young skateboarder and four buddies, all in their late teens/early 20s, are being looked at as suspects in Tuesday's headline-making flag heist. Blurry security cameras showed the group crossing the bridge in the early morning, less than half an hour before tower lights went out and the flags were snatched.
Although the NYPD does not have any concrete leads yet, they are eyeing everyone from construction workers to July 4th fireworks show employees to figure out who's responsible for the stunt, and have basically everyone on the hunt–from homicide to counterterrorism. Furthermore, the NYPD has added two more security cameras to the bridge as a precautionary measure.
In the meantime, nobody knows why the traditional American flags were replaced with whitewashed flags. However, one police source speculated to the paper: "Suppose it was a dry run for terrorism, just to see how good the security is?"
What is even more bizarre is how the perpetrator(s) managed to elude surveillance and scale the 276-foot high, 131-year-old towers, which have long been a potential terror hotspot. Clearly, the NYPD is no match for a bunch of skateboarding troublemakers.