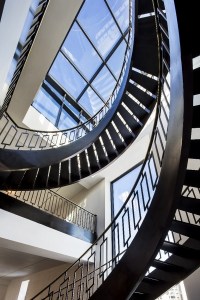 The Manhattan sales market saw only modest growth this past quarter, according to Crain's, after a year of "torrid" record growth. Crain's credits buyer prudence—The Journal, meanwhile, attributes it to buyer fatigue—but might it also have had something to do with the fact that the resources of those who are not billionaires and multi-, mutli-millionaires are not infinite, but constrained by things like yearly salaries?
Maybe sellers just need to step it up, like the developer who is offering to throw in a $80,000 Tesla if you buy the triplex in his Park Slope townhouse for $6 million (yikes! you don't even get a whole townhouse for $6 million?), NY Mag reports. But he insists that it isn't a sales gimmick: he just thinks the car goes perfect with the house.
A dorm no more: the 12-story building at 200 E. 11th Street is losing its grubby collegiate looking, EVGrieve reports; it is being transformed into super posh rentals: a two-bedroom will go for $10,000 a month.
But why move into a luxury apartment when you can move into a luxury apartment outfitted with so-called health finishes? These days all the cool kids, well, Leonardo DiCaprio at least, are going down the street to Delos, at 66 E. 11th Street. Curbed reports that the penthouse there just listed for $50 million and comes with "anti-microbial coating on high-touch areas, EMF shielding on wires, filtered air and water, Vitamin C-filtered showers, and circadian rhythm lighting." What it doesn't come with: proof that any of that matters at all.
Residents in Elmhurst, Queens brought their kids along to protest a family homeless shelter in the neighborhood, according to DNAinfo. "Get a job" and "2,4,6, 8, we do not appreciate hobos hobos" were among the most eye-catching signs held by the children. There's nothing like a multi-generational gathering to shame the poor. When one woman suggested that upset locals try to work with the city to help shelter families, "locals booed her and told her to sit down."
It will cost $100 million to fix the Brooklyn Public Library's main branch, the New York Daily News reports. Among the problems plaguing the library at Grand Army plaza are a wrecked roof and bathrooms with broken toilets and bad ventilation. "The smell in there can sometimes kill you," said one Park Slopian or the defunct bathrooms. Worst of all, the library has only $30 million on hand for repairs.