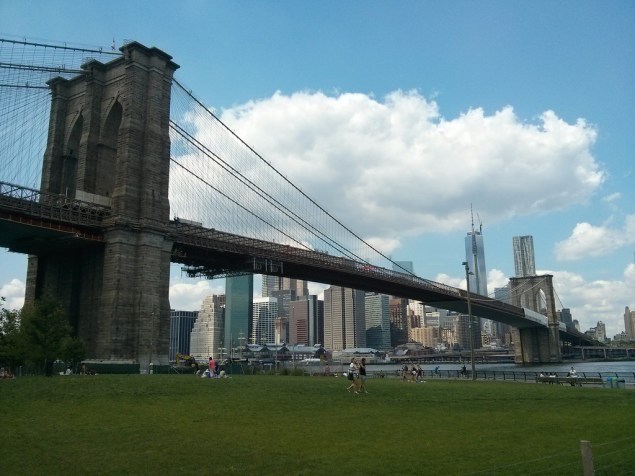 Should rich people be the only ones who get to live in housing that blocks our view of Brooklyn Bridge Park? The Wall Street Journal reports that Bill de Blasio's plan to put affordable housing in the park—which would be built as part of a market rate development—has hit another hurdle in the form of parks advocates who oppose the construction of any additional housing in the park.
Brokers who speak your language: The Wall Street Journal reports that the most common second languages spoken by brokers in the U.S. are Spanish, French, Russian, Mandarin and German.
When it comes to outdoor summer fun, DNAInfo has penned helpful compendiums of places to drink on the waterfront and day hikes without a car. Now they have one of places you can spend the day hiking within the city, among them Inwood Hill Park and Marine Park.
Brick Underground talks to the renters of Castlebraid—the ridiculous Bushwick luxury building that everyone likes to make fun of. Some people love the amenities, some people are just weirded out by them. Says one: "I try not to leave my house. Have you seen this place? This place is weird. I got it as a sublet through a friend of a friend and I get to move out Aug. 1. I'm moving to the Upper East Side because I need to get to the exact opposite of this."

Speaking of luxury condos: 5Pointz demolition is scheduled to begin in two weeks, the LIC Post reports.
A Chelsea man's apartment was ransacked after he gave a broker keys to show the place, DNAInfo reports. Police told the website that the tenant and the broker had a bad relationship, however the broker is not considered a suspect. Three Macbooks were also stolen.
Last of all, Mayor de Blasio is touting the fact that the city is on track to meet the modest goals it set in April for Sandy-related housing and rebuilding, according to The New York Times. The city has begun work on 132 homes and issued 397 checks worth a total of more than $6.37 million.