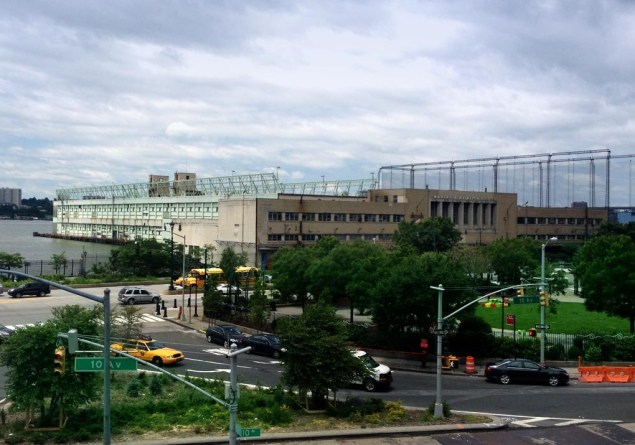 The Port Authority bus terminal will get $90 million in upgrades, according to The New York Times, but don't expect anything more than small, piecemeal changes: better cell phone service and signage, some roof repairs, more fans to cool the air. Also, the bathrooms will be cleaner and there will be homeless outreach. The Port Authority concedes that the terminal "no longer meets the transportation needs of the hundreds of thousands of riders that pass through" it every day. Which is something of an understatement for a transportation hub that makes even Penn Station look like a palace.
But at least one of the city's transportation systems might see substantial improvement in the near future: The Wall Street Journal reports that a deal between REQX Ventures and Alta Bicycle Share could close as early as this week and could potentially infuse tens of millions of dollars into the troubled but beloved program, providing funds for a long-awaited expansion.
Does the "Superpier" need a boost? Five years after Youngwoo & Associates won the right to develop Pier 57 and just over a year before the city council approved plans to transform the pier into a sports, leisure and shopping destination, Youngwoo is looking to bring in another company—perhaps RXR—to move things along, Crain's reports. The reasons that Youngwoo is seeking a partnership remains a mystery, though perhaps it has something to do with the magnitude of work needed to fix the decrepit, 560,000 square-foot pier.
Lovely Greenwich Village is all covered with scaffolding, the Post reports, amidst a renovation boom that would seemingly transform every mutli-family townhouse back into not only single-family homes, but single-family homes with vast wine cellars and basement fitness centers.
For those among us who cannot afford such niceties, Chelsea affordable housing complex Penn South is opening up its waiting list lottery and a lucky winner could go home with a $64,000 apartment, according to DNAInfo. Of course, winning the housing lottery might be more far-fetched than winning the actual lottery.
And for those with even less resources: Sean Henry, the state senate candidate vying for the East New York seat, was not only homeless as a Chicago teen—he and his mom bounced around between different family members—he plans to make its eradication a central part of his campaign, according to DNAInfo.
New York City brokers sound off to Brick Underground on the so-called broker guide whose excerpts were published in the Guardian Tuesday. Most damning of all, brokers don't think it would really work: "People get mad at brokers for telling them the reality of the New York market, which is that it's expensive and obnoxious," Gus Waite, a Coldwell Banker/AC Lawrence broker tells the website. "[But] trying to convince people what's realistic before they're ready … most firms tell you to do the opposite—agree with your client's assessments, and just keep showing them apartments … eventually, the market will educate them."
New flash: old people in Queens do not like change! Geezers complain to the Post about the renovated bocce ball courts: the benches are too far apart, the new coverings do not keep all the rain out, the lighting isn't bright enough. Yada yada yada…
On a related note: despite undergoing a recent image makeover, River House is not all open arms and broad smiles. The Wall Street Journal reports that a bid made by the French U.N. Ambassador for a 14-room apartment listed at $7.8 million has been rejected by the board after a resident rebellion against a diplomat living in the building. And the rejection was extra-snooty considering that the River House co-op would have been a replacement for the $70 million apartment that the French government just sold at 740 Park.
The Bank of China may open a marquee office in New York,which would be its first, according to Crain's. The bank has allegedly revived talks to become the anchor tenant at 7 Bryant Park, which is scheduled to be ready for occupancy early next fall.