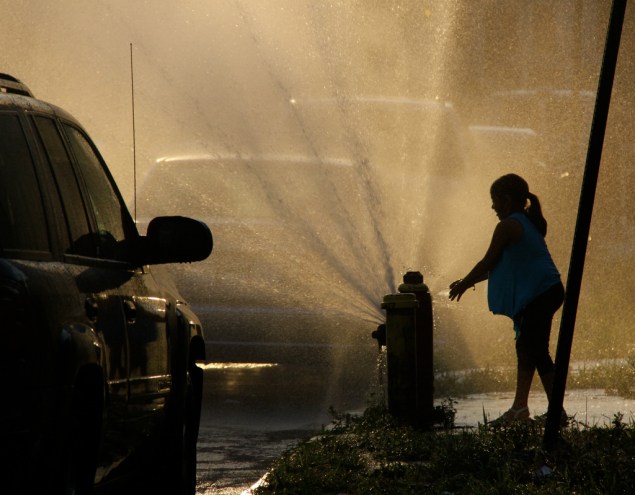 Auf Wiedersehen ! Heidi Klum has listed her Brentwood mansion for $25 million, according to The Wall Street Journal, and is issuing syrupy statements about its many charms: "I honestly felt that I was no longer in Los Angeles, but instead was strolling the gardens of a home in the south of France," the model and Project Runway said in a canned statement.
In other celebrity home news, Anne Hathaway has found a buyer for her $4.25 million Dumbo condo, according to The New York Daily News. Hopefully the buyer knows that the apartment, which Ms. Hathaway apparently used as a big closet to store her junk while living elsewhere during the year she owned it, comes with only minimal traces of celebrity magic.
Just because one is spending the holiday in the Hamptons doesn't mean one has to forgo the unique delights of a showhouse: the Watchcase condo conversion in the former Bulova watch factory of Sag Harbor is showcasing 18 interior spaces done over by local designers, The New York Times reports, and is open through August 10.
Here's something both NIMBYs and developers can love: the Municipal Art Society has put together an air rights map showing how many square feet of unused development rights every property in Manhattan has. Crain's frames the map as boon to would-be preservationists, who have been caught off-guard by development in the past, though it's a helpful document for anyone interested in ongoing development, reporters included.
Speaking of the clash between preservation and development, Christopher Gray, in The Times, waxes poetic on the peculiar charms of East 57th Street, a place of strange, eccentric little stores like the Todhunter, which sold reproduction iron pieces and woodwork, and whose "disappearance sums up for me the long-lost magic of the street."
Capital NY delves into the many problems presented by private-public parks partnerships in the wake of recent controversy over unequal parks. The problem, of course, is that private-public partnerships materialized and thrived not only because of the proximity of wealthy residents, but because they provided a much-needed monies at a time of diminishing capital funding, which has not yet been fully restored.
Though father-son dynasties are by far the most common in real estate, some daughters are being groomed to take over the reigns, like Laurie Zucker, profiled in the Wall Street Journal as next in line to take over the family development business.
As a larger and larger percentage of Americans become renters, particularly those outside of major urban areas, there may be less and less risk of mortgage defaults and subsequent meltdowns, but we study how being rent-burdened, sometimes severely, will impact families who already struggling to hang onto middle-class lives, The Atlantic Cities asserts.