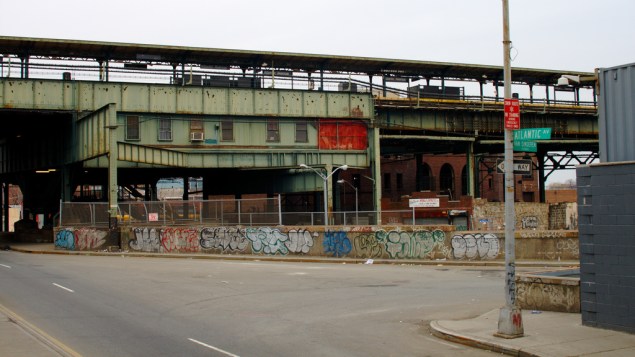 Max Fish re-opens this weekend, not in Williamsburg, as had been initially discussed when the beloved bar first got booted from its spot, but on Orchard Street, DNAinfo reports, a few blocks from its original Ludlow Street location. Maybe not all hope is lost for Manhattan?
Which is good, because all hope might be lost for Brooklyn. Curbed has spotted what may be the first conclusive evidence that the much speculated upon gentrification has reached East New York: a rental building at 577 New Lots Avenue is advertising its recently spruced-up wares with an image of a graffitied wall touting "the next frontier." Rents for one-bedrooms are "starting at $900," which might sound cheap, but only in comparison to brownstone Brooklyn and Manhattan, not in comparison to what people who need affordable housing actually make.
Graffiti is, after all, the hottest in high-end luxury decor. Take, for example, the "Life is Beautiful" mural on 250 North 10th Street, which was done by the appropriately-named Mr. Brainwash. Hey Wall Street financiers, this luxury rental is authentically gritty and hip!
And what is to be done with Park Slope NIMBYs, who despite the closure of nearby LICH and the precarious state of so many Brooklyn hospitals, are now doing all they can to block Methodist's planned expansion, The Wall Street Journal reports. A group formed into reaction to the planned outpatient center is now suing to try to stop the city-approved plans.
The sharing economy doesn't always work the way you'd expect it to. Lyft, which agreed to used T&LC-licensed drivers to launch its "volunteer" ride-share network, has apparently been drawing from a pool of Uber drivers, according to Crain's. Uber is now, reportedly, complaining to the T&LC, furious that its disruption has been disrupted. And, in the end, people are still just hiring cars to take them places whether they use a yellow cab, livery cab, Uber or Lyft. So much for the revolution.
Speaking of disruption, Atlantic Cities is disappointed that the new "Manservants" start-up explicitly forbids sex. Bachelorettes and bored divorcees don't just want cabana boys to cater to their house-keeping whims, they want sex, so why shouldn't some start-up offer a new way of paying for sex, the website asks: "If there is any sector deserving of disruption, it's sex work, which  virtually invisible in America."