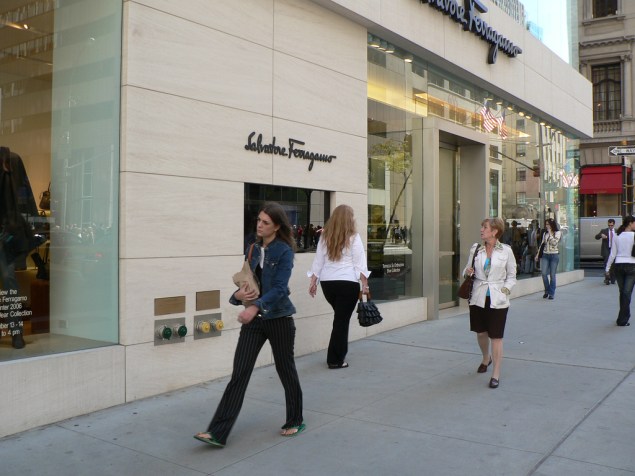 DNAinfo reports that rental prices in Queens went down last quarter. Don't get too excited, though, as it wasn't landlords slashing rents out of the goodness of their hearts, apparently, but people moving into cheaper studios and one-bedrooms, shying away from the larger, more expensive pads. So, basically, Queens is not getting cheaper, people who live there are just seeking out cheaper apartments.
Way, way up? The cost of retail space along Fifth Avenue. Vornado and Crown have paid $700 million for a 25,000 square foot retail site on Fifth at the corner of E. 55th, according to The Wall Street Journal. It traded for $380.6 million in 2012. But the leases of Bottega Venata and De Beers, who occupy the space, are almost up, meaning that the new owners can jack up the rent. Though it's not even the most expensive sale in the area at $28,000 per square foot: in February, a Madison Avenue space traded for $31,000 per square foot.
Is there anyone left on the Board of Standards and Appeals? Just barely enough to make a quorum, Crain's has discovered, and things are poised to get even worse with the executive director and another member poised to step down soon. Meanwhile, Mayor de Blasio has neglected to replace Chairwoman Meenakshi Srinivasan, whom he poached to head up landmarks in May and another member is on an extended international vacation. If de Blasio doesn't appoint some new members soon, the hundreds of land use variance applications that come before the board each year may have to be put on hold.
But the de Blasio administration would like you to know that they have been very, very busy doing other important things. Like committing $250 million to finance the construction and preservation of 8,700 units of affordable housing: 2,600 new affordable units and 6,140 preserved. But as Crain's points out, the 200,000 goal would require 20,000 units being financed annually, so the HPD will need to step up the pace to meet its goal.
Upper West Side neighbors of Columbia Grammar are apoplectic about three alternate side parking spaces in front of the school that were recently converted to "no standing during school hours" spots, according to DNAinfo. And lest your think this is yet another non-issue uptown NIMBY war, consider this: parents have turned the spots into a place for chauffeurs to idle the big, expensive cars that ferry kids around in.
So share and share alike? Car-sharing service Lyft is poised to leap into the "sharing economy" fray tonight by launching a fleet of ride-share for donation vehicles, according to The Wall Street Journal. The vehicles, which are identifiable by furry pink mustaches affixed to their front sides, are private vehicles, but the TLC says that anyone car ride for money relationship needs to be regulated by them. They claim that it puts users in significant danger and have already sent Lyft cease and desist letters to try and stop them.
Spurned LICH bidders, Brooklyn Health Partners and the Peebles Corporation, have cried foul to the comptroller and AG's offices, arguing that SUNY's decision to dump them during the bidding process wasn't on the level. Now a gaggle of politicians have joined in their plea, according to Crain's, claiming that the Fortis pick will not result in the optimal outcome for local healthcare.
So hot right now? Yes, of course, the weather, but also new construction townhouses. The Post explores the trend which boils down to people like townhouses, people like new construction. So long as developers can still maximize profits because of height caps on construction in certain areas, why not give the rich people what they want?