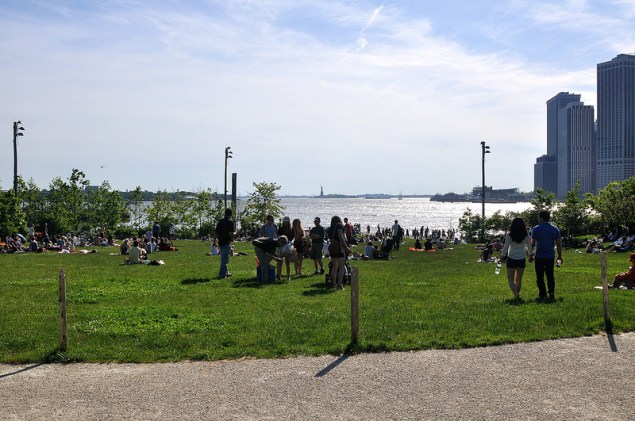 Good morning, home-owner. Are you the in the market for an elaborate, 18th century-style door knocker, towel ring or sink basin? Well, head on down to P.E. Guerin, the Wall Street Journal suggests, a foundry established in Greenwich Village in 1857 by a French immigrant. Mr. Guerin may have been a bit ahead of his time. It seems unlikely, anyway, that he was getting $700 a knob in the mid 19th century; inflation, cost of materials and the wide-ranging influence of global capitalism notwithstanding.
Who the #&$% is Renée Zell-Wedger? The actress must be hoping someone with pastoral tastes and $1.6 million to burn has at least some inkling. That's what she's asking for her Connecticut farmland estate.
Certainly, Ms. Zellweger (actual spelling) is banking on a market less timid than the one that has lately developed in the Hamptons. Those poor Long Island brokers: Crain's reports that the Hamptons median sale price has slipped to a measly $908,500! Yeesh. Don't people go on vacation anymore?
In somewhat more, ahem, important news, it might be time, given the safer era the city, generally-speaking, is currently experiencing, to consider whether the "Broken Windows" approach to policing, wherein "no offense is too minor for police officers to pursue," might not be due reevaluation, or at least a serious review.
It's just like New Jersey! Curbed tracks Brooklyn's path from small town to metropolitan borough, exploring idiosyncrasies mapped and uncharted alike.
The Times meanwhile offers an only-mildly annoying ode to Brooklyn Bridge Park. It is, after all, undeniably quite lovely.
In the Bronx, one non-profit developer adopts an expanded role, addressing dilapidated MTA facilities and raceway-like conditions on the streets to encourage "The people you want to come out" to feel safe strolling the avenues. "The people who have got the baby strollers and are going shopping, just trying to live normal lives."
In further news from the outer boroughs, the Staten Island Advance reports, the New York Wheel project on SI's north shore will receive $150 million in CB-5 investments from 300 Chinese backers, each of whom will contribute $500,000, the pay-to-play amount required by law for CB-5 visa eligibility. The program aims to funnel foreign investment toward job-creating ventures.
In more hoity-toity precincts, it appears that socialite and River House shareholder Elizabeth Kabler has led a successful charge to block the purchase by the French government on behalf of its UN ambassador of a 14-room unit across the hall from her. According to the Wall Street Journal, Ms. Kabler feared "noisy soirees, armed guards and diplomatic immunity," and the sale of the $7.8 million co-op fell apart as a result of conditions imposed on the sale by the co-op board that the French government considered untenable.