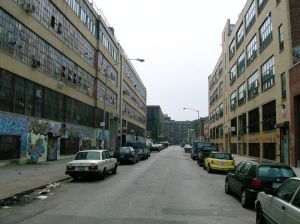 The basement-dwelling hipster artists of McKibbin Lofts have been ordered to vacate by the Department of Buildings, Gothamist reports, because of conditions "imminently perilous to human life." In its partial vacate order, the DOB takes issue with the bathrooms, kitchen and gas lines that were never intended for the basement, among other things.
Speaking of hipster artists, perhaps you're looking to do a nautical theme in your apartment? Then Portside's marine equipment sale is just the thing! The maritime non-profit is selling working industrial equipment for nautical use of just themes, according to DNAInfo, with the sale slated to take place June 27 at Pier 11 in Red Hook.
Cost of living indexes take many things into account: transportation, the price of a gallon of milk, etc., but one thing accounts for nearly all the real difference between cities, according to Atlantic Cities. It's the cost of housing.
Though if you're willing to leave the city, you could buy John Cheever's stone and clapboard house in Ossining for $525,000, according to The New York Times. Of course, the fact that Cheever crafted perfect descriptions of suburban ennui from the home does not bode very well for future happiness.
St. Mark's Bookstore has re-opened in a downsized space at 131 E. Third Street near Avenue A, DNAInfo reports. And though the 1,325-square foot space is less than half the size of the original store, the rent is about a quarter of the $23,500 a month that the bookstore's rent had soared to in its former location.
Now that the East Village is over, perhaps it's time to move to Murray Hill, where things are starting to get strange. At least, on East 30th Street, where Gothamist has photo documentation of man doing almost-nude yoga (there's a thong involved) on a non-flat rooftop. Harrowing? (And on a summer's day, one would think also very hot.)
The Greenwich Village Society for Historic Preservation wants the city to keep potential preservation sites hush hush, DNAinfo reports, after it found that more than 20 buildings in the city have been demolished or significantly changed after the Landmarks Preservation Commission tipped owners off that their properties were being considered for the dubious honor, which severely limits the kind of renovations and alterations that can be made. The LPC, however, says that outreach is a key part of their plan.
The city's yellow cab and livery industry, after years of a heavily-regulated industry and rising medallion values, is now struggling to maintain its dominance with the introduction of outer-borough green cabs, Uber and now Lyft, which would have New Yorkers with cars give rides to strangers, according to Crain's. But T&LC Chair Meera Joshi maintains that while the commission will work with new services like Lyft to try to meet regulations, they'll still have to follow the same rules as everyone else. "We definitely embrace new technology, but the new technology must fit within our established regulation, which serves a tremendous public policy purpose," said Ms. Joshi, according to Capital New York.
And problems with the sharing economy do pop up: a California woman is claiming that she has an Airbnb squatter in her Palm Springs vacation condo, according to Business Insider. The man, apparently, in having managed to stay more than 30 days, now has rights as a tenant and may need to be evicted in a process lasting three to six months.