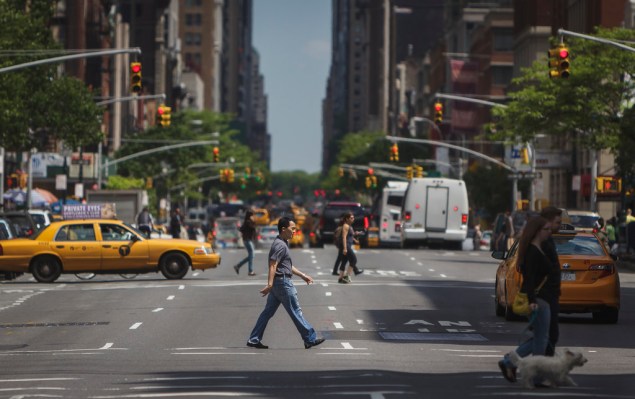 The Brooklyn Navy Yard is still hoping for a developer to come in and build it a grocery store and office/retail space at Admiral's Row, according to Crain's. Developers, however, have been less than enthused in the past, with two previous deals having fallen through. But this RFP will be different, the Navy Yard says, allowing negotiations with multiple bidders until the Navy Yard reaches a deal.
"To be a New Yorker sometimes is to be a gentrifier and displaced in a single breath." Michael Powell pens a beautiful sign-off for his New York Times column, Gotham (he'll be writing one on sports instead), with some very apt observations about gentrification, the complications of lamenting it and the "existential vortex of hyper-gentrification": "To visit London, Paris, San Francisco or Berlin is to chart the same phenomenon. Gobs of bank capital flood in, and the rich follow. To talk of house-by-house gentrification is like recalling when we crossed the prairies in wagons."
Are people ever going to want to hang out in FiDi? Well, there's a lot of stuff opening in the near future, so maybe? Crain's reports that over the next year, 635,000 square feet of retail space will open, followed by another 200,000 square feet of shops by late 2016. Although given that their story opens with an anecdote about Brookfield plaza food court—as cool as we're sure it is—it seems safe to say that where ever FiDi is, it's not quite there yet.
Also not quite there yet: themed open houses. The Real Deal reports that a handful of brokers have tried staging everything from "Frozen"-themed parties to kids' carnivals in hopes of attracting buyers. But so far, buyers don't seem to be paying much heed.
Are student loans slowing home-buying among 20 and 30 somethings?, The New York Times asks. Maybe? Home-buying for that demographic has dipped, The Times concludes, but there could be other things involved. Among them, a kind of student loan PTSD that's preventing young adults from wanting to borrow again even if they don't have student loans anymore. Says one loan expert: "This generation has what some would label a fear of debt."
Those spooked by spending money won't find any relief at Washington D.C.'s newest micro-unit complex: Atlantic Cities reports that a historic mansion is slated to be carved up into teeny-tiny units with shared amenities and that the wee living spaces will be aimed at millennials making around $150,000 a year.
Last of all, meet a broker who plays poker in The New York Times. As it happens, people playing with a lot of money, or having just won it, are more interested than the average person in buying real estate.