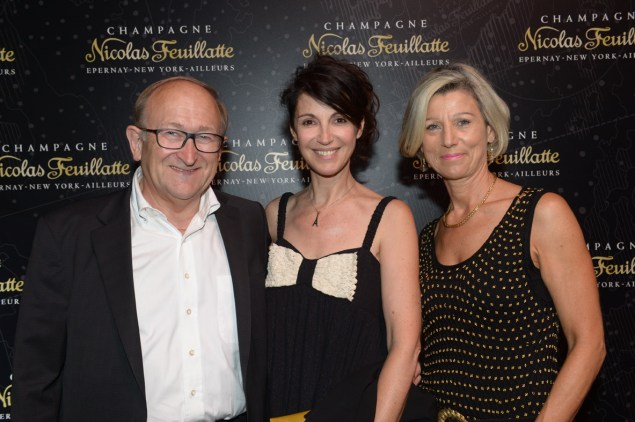 Back in June, Tina Santi Flaherty, the philanthropic former business executive, broadcaster and writer, invited Shindigger to sit at her table for the 2014 Jacqueline Kennedy Onassis Medal awards dinner, hosted by the Municipal Art Society. At the event, a distinguished flock of developers, architects, urban planners and preservationists dined on Pacific halibut and clinked glasses of Champagne in celebration of the evening's principal honoree, Forest City Ratner (meh).
A few weeks later we found ourselves taking coffee with Ms. Flaherty in her jaw-dropping penthouse, chatting about the new commemorative edition of her 2004 book, What Jackie Taught Us.
"I think [Jackie's] legacy has evolved," she explained. "I don't think she gets the credit she deserves." Which may seem like a head-scratcher of a statement, except how many New Yorkers realize Jackie helped save Grand Central Station? Or know of her role in bringing the Met the Temple of Dendur?
---

$150
Price of a bottle of Nicolas Feuillatte's Palmes d'Or


$43,630
The world record price
for a bottle of champagne from the Åland shipwreck


---
"New Yorkers should be so grateful for Jackie," Ms. Flaherty argued. To create her project, she enlisted such notables as Liz Smith, Hemingway biographer A.E. Hotchner and designer C.D. Greene. The book paints a vivid picture of the outspoken first lady shrewdly using her standing to assist the president's cultural agenda.
Our next string of engagements took us to Paris for men's fashion week, where Nicolas Feuillatte, France's top-selling Champagne brand, hosted the exclusive Party X'ploration at dance den YOYO. Fizzes then morphed into fashion, as we shifted between catwalks from Hermès to Berluti, Dior Homme to Lanvin. Bien sur, there was plenty of Champagne. We guzzled gallons of it in Paris—Moët, Taittinger, even some Bollinger. It wasn't until the very last runway show, at Saint Laurent, that Shindigger stumbled into Mr. Feuillatte again. We gladly took two chilled baby bottles of Champagne with straws as we sat alongside others editors and buyers in the sweltering sauna that was Carreau du Temple. When Hedi Slimane's rock 'n' roll parade finally concluded, Shindigger somehow was able to blend into the entourage of Lenny Kravitz, who had been perched front row.
"I'm not drinking for like nine months," we overheard someone say.
"Oh, good for you! I couldn't fucking do that!"
Neither could we, thought Shindigger, as we snatched another bottle of Feuillatte.
Back in New York, we wanted to see if others held the same penchant for Champagne we do. At the after-party for the New York premiere of Woody Allen's Magic in the Moonlight, we ran into screenwriter/actor Danny Strong, who averred "I will be drinking Champagne all summer as I look at the moon and the magic inside of it."
However, Girls star Alex Karpovsky confessed to Shindigger that he is no fan of Champagne, because "it causes him to make very bad decisions while drinking it, and very hungover afterwards." Luckily, we found more profound enthusiasm in Nicolas Ricroque, brand director for Champagne Ruinart, the official champagne of Art Southampton.
"Champagne doesn't need special occasions to be drunk," he said after the fair's VIP opening last Thursday. "It is an occasion in itself. And we believe that an art show of this quality deserves to be enjoyed whilst sipping fine bubbles."
The evening, which was also sponsored by Graff Diamonds and Maserati, attracted art collectors such as Dorothy Lichtenstein and Hal Buckner, Ted and Ruth Baum, and Alicia and Dan Blythewood.
"Right now, I particularly like drinking Ruinart rosés," Mons. Ricroque continued.
"Where can we find a glass?" Shindigger questioned.
"The Rose Bar at Gramercy Park Hotel is most likely the best setting in New York City."
We told him we'd see him there.