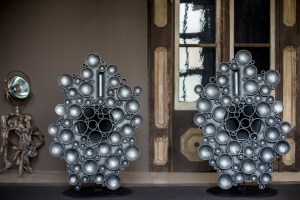 Abstract expressionism meets steampunk in the Ironic speaker, where form and function collide in beautiful harmony. These speakers wont just deliver the highest sound-quality possible; they'll double as a work of art and conversation starter, too.
The Ironic was designed and crafted by Oswalds Mill Audio, a boutique speaker company based in Brooklyn. At the soul of these speakers are ultra-rare, wide-range woofers, which were harvested from 1930s jukeboxes. OMA founder Jonathan Weiss told the Observer this gives the Ironic an authentic, pure sound, unlike any speakers on the market today.
"Take one listen and it will change everything you thought about audio," he told us.
The visually striking speakers are made with a 3D printed cast, which is destroyed after just one use. The special hypoeutectic iron— which resists all vibration— makes for crystal clear sound. It's the first of its kind to be used in a speaker. In keeping with the confluence of old and new, the Ironic can play from both your iPod or an old-fashioned vinyl.
And the name?
"The dictionary definition of irony is 'happening in an opposite way to what's expected,'" said Mr. Weiss. "I think we've done that here."
Indeed, the Ironic is sending the message loud and clear: the era of bland, boxy speakers we've all known has come to an end. Audiophiles and aesthetes alike, eat your heart out.
The Ironic, edition of 10, available for $95,000 from the OMA showroom. By appointment only. (917) 743-3780