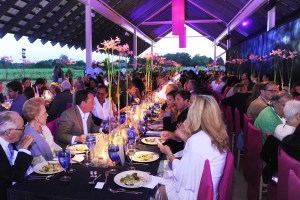 Fear a busy art world weekend in the Hamptons. Out east, the constellation of openings, galas and waterside dinners is vast, and the trip from the North Fork to Montauk takes significantly longer than, say, an Uber from Lower to Upper East Side.
But undaunted, we began on Saturday afternoon in East Marion, N.Y., the comparatively hippiefied swath of communes and share houses, where the usually Chelsea-based Martos Gallery opened its summer show "Another, Once Again, Many Times More," at the sprawling estate purchased last year by proprietor Jose Martos. Keeping in theme with the Hamptons town of choice, the artwork was accompanied by several freeflowing kegs, and a rock band aimlessly noodling on the roof. Guests carried their full Solo cups through the house, a domestic space transformed for the show, with even the garage and basement taken over by artists, several of which had been tapped as curators—Virginia Overton, Ryan Foerster and Carol Bove among them. The show's boundaries overtook even Mr. Martos' kid's playpen, which had been strewn with toy trucks and model trains to adorable effect.
But as Hamptons edict dictates, one must leave a thing far too early in order to get to the next. And so it was on to Water Mill from the North Fork, an odyssey if there ever was one, complete with multiple ferry trips and quick spins over islands and hairpin turns at idyllic intersections, just to arrive at the giant Herzog & de Meuron-designed barn from the future that is the Parrish Art Museum. It was the Midsummer Party, a lovely excuse for the weekending socialites to put on Manhattan-worthy gowns and hobnob with various lodestars in that aforementioned constellation. Stalwarts such as Dorothy Lichtenstein and Robert Wilson were joined by Maya Lin, who has a show at the museum, and any sense of decorum was thankfully eroded by the time of the after-party, where the booze flowed on the dance floor as if home, or at least a couch to crash on, wasn't a half-hour drive away. But it was for most, us included, so we hitched a ride to Montauk and found ourselves in the kooky mansion-cum-studio of artist and photographer Raphael Mazzucco, the artist and photographer best known for Sports Illustrated Swimsuit Issue photo shoots, collaborations with Puff Daddy, and a cameo on Entourage, that woeful pre-recession celebration of Hollywood decadence. Mr. Mazzucco played himself.
The reason that a dozen or so hangers-on were gathered at his all-concrete, three-level sprawling pad was as a kind of preview to a dinner that would be thrown the following night at The Surf Lodge, the self-proclaimed laid-back party spot just outside of Montauk's main drag that cherrypicks DJs from Meatpacking District boites to work their magic by the beach. But that Sunday, it was anything but laid back: the World Cup final went into extra time, and people seemed to care quite a bit.
"Argentina or Germany, my friend?" said one man to another man in the Surf Lodge men's room, which is little more than a metal trough.
"I'm gonna go with the Nazis," said the man relieving himself beside him.
"They're better killers," said the first.
"Exterminators, really," said the second.
Fortunately for those urinating gentleman and for very few others, Germany ended up winning. The competitive spirit didn't end with the game: Mr. Mazzucco's dinner was something like Argentina next to the equivalent German opponent: another dinner, this one for Surf Lodge artist-in-residence Daniel Arsham, featuring all-white food to match the all-white outfits of the attendees.
"I wanted this monochrome meal that looks really bland but is actually really delicious," Mr. Arsham told us at the cocktail portion, at a nook by the water, where everyone drank—what else?—white wine.
"I'm working out here for a few weeks, then having a little show on the 27th," he went on. Then he pointed to a little schooner pulling into the dock. "I mean, it's great out here. I love how these fucking boats just roll up with people drinking rosé.
He said the works completed out east will be part of his show at Galerie Perrotin that opens in May 2015. Amazingly, given his globetrotting and ubiquity and collaborations with Pharrell and all of that, this will be Mr. Arsham's first solo show in New York.
Eventually, we all sat down at white tables with white tablecloths and were served white food—white asparagus, white corn, white radish, white Amish chicken—as the blues guitarist Gary Clark Jr. peeled off tasty licks on the stage to the right. Then it was time to leave, which meant a troubling withdrawal from the ATM to account for disproportionate taxi tariffs, and when we went to stick in our card we noticed the receipt from the prior transaction also displayed the prior user's balance: $131,000.