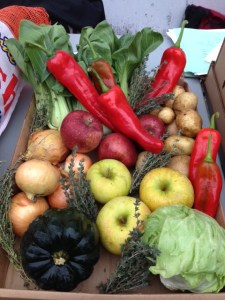 In a city that seems to have a grocery store or fruit stand on every block, it might be surprising to learn that fresh produce is often inaccessible to many New Yorkers. But in areas known as "food deserts," quality produce is difficult to find, especially on a budget. Fortunately, an expanding program at GrowNYC is striving to make eating fruits and vegetables cool, accessible and affordable again.
Fresh FoodBox, which started in 2011, will begin registering New Yorkers at 18 sites citywide tomorrow through November. The program offers high quality, fresh local produce for extremely low prices when participants sign up a week in advance. Fresh FoodBox is bringing farm-to-fork fruit and veggies out of hipsterdom and into the mainstream. It added eight new sites this year in the Bronx, Brooklyn, Manhattan and Queens, and now has printed resources available in Spanish, as well as bilingual site coordinators. A $10 FoodBox is filled with $9.50 worth of produce from New York farms, which would retail at a grocery store at about $26.
"All the money that comes in from the users goes right into the food," Wholesale Community Outreach Coordinator Nicole Tucker told the Observer. "Everything else is funded by grants."
Each FoodBox includes a fruit, a cooking green, a raw green, an aromatic (i.e. garlic, scallion, onion), and 5-8 fresh and seasonal vegetables. Ms. Tucker claimed that buyers are often surprised by how much food is actually in a FoodBox — enough to feed a family of four for a week when supplemented with grains and proteins.
Although Fresh FoodBox is aimed at underserved areas throughout the city and accepts EBT/SNAP benefits in addition to cash and credit/debit, Ms. Tucker pointed out that areas lacking access to quality produce are not necessarily located in poorer neighborhoods.
"We have a FoodBox [site] on the Upper East Side," Ms. Tucker noted "… [Participants] are so excited because everything in the area is Coach handbag stores, but you can't buy an apple."
The Fresh FoodBox program serves a double purpose of benefitting both urban and rural New Yorkers. The produce for the boxes comes from local middle-sized farms that are too small to compete on the national market and yet too big to make a profit at farmers' markets.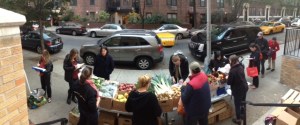 "It would take most of the day to get to the city to sell however much they sold at the market and then spend another day going back," Ms. Tucker explained. "It just doesn't make financial sense."
This is why Fresh FoodBox, a wholesale market, sources its produce from these farms.
"The city exists in some ways to help support rural areas, and rural areas farm to support our ability to eat," Ms. Tucker expanded.
Jacquie Berger, executive director of Just Food, an organization that helps NYC communities bring in locally grown foods, believes that ability to eat is a "basic human right."
"There is no better incentive to encouraging people to eat well than having access to very good food," Ms. Berger asserted. "…The demand is there in the most nutritionally vulnerable areas in New York."
Still, Christy Harrison, a New York-based nutritionist and registered dietitian, believes some retail stores are skeptical of that demand.
"Sometimes supermarkets just aren't there because they don't set up shops in those neighborhoods to begin with because they don't think they're going to make money," she said. "Or if the produce is there, then sometimes the produce is pretty sad."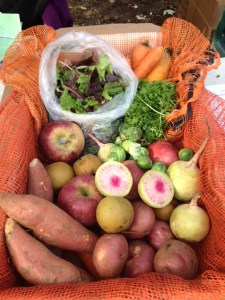 Ms. Harrison, who formerly consulted with Stellar Farmers' Markets, sponsored by the city's Department of Health, noted that when quality fresh produce is not available, canned and frozen versions are surprisingly not bad options.
"In terms of health, it's not actually essential to eat fresh fruits and vegetables," she explained. "But fresh tends to be better tasting, better quality, and sometimes canned [foods] can have a lot of sodium in them and so that can counteract all the potassium you're getting."
She noted that frozen produce tends to be fairly nutritious because it is picked at the peak of ripeness. Still, she is partial to the fresh variety.
"Sometimes when things are fresh people get really excited about them… the whole experience is just better," Ms. Harrison enthused. "Having fresh fruit and produce can make people like them more overall, and that can help people be healthier."
"People like fruit and veggies," Ms. Tucker insisted. "I don't know why people think they don't."