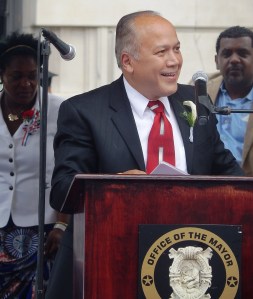 PATERSON – Backed by his wife and stirred to tears by the memory of his late father, Mayor Jose "Joey" Torres thanked the people in his public remarks and vowed to rebuild this diverse but economically downbeat city he now leads once again.
"I am grateful and moved by your vote of confidence and promise I will do everything in my power to [help] our neighborhoods," Torres told the crowd in the stifling heat.
Onstage bigwig leaders – Gov. Chris Christie, Jersey City Mayor Steve Fulop and former Gov. James McGreevey – had already evacuated when Torres spoke.
Only U.S. Rep. Bill Pascrell (R-9) remained.
"People have expressed their desire for a renaissance in the city," Torres said. "It will not be easy at times, but we cannot accept anything but success. We can maintain the treasures we hold dear [the Paterson Falls, Hinchcliffe Stadium, and the [Paterson Armory].
"Together we can move Paterson onward. Making the Silk City again, Congressman, depends on us," the mayor said in a nod to Pascrell. "Thank you for allowing me the opportunity to be your mayor once again."
Torres choked up when he invoked his late father, who died after his son's victory on May 13th.
He took the stage after his wife Sonia chastised those who had attacked her husband during the campaign, and welcomed all to set aside differences and join Torres in helping Paterson.
Former Mayor (and Councilman) Tom Rooney was present with a speaking role in support of the mayor he backed all along the campaign trail.
Outgoing Mayor Jeff Jones was not present at the well-attended ceremony.