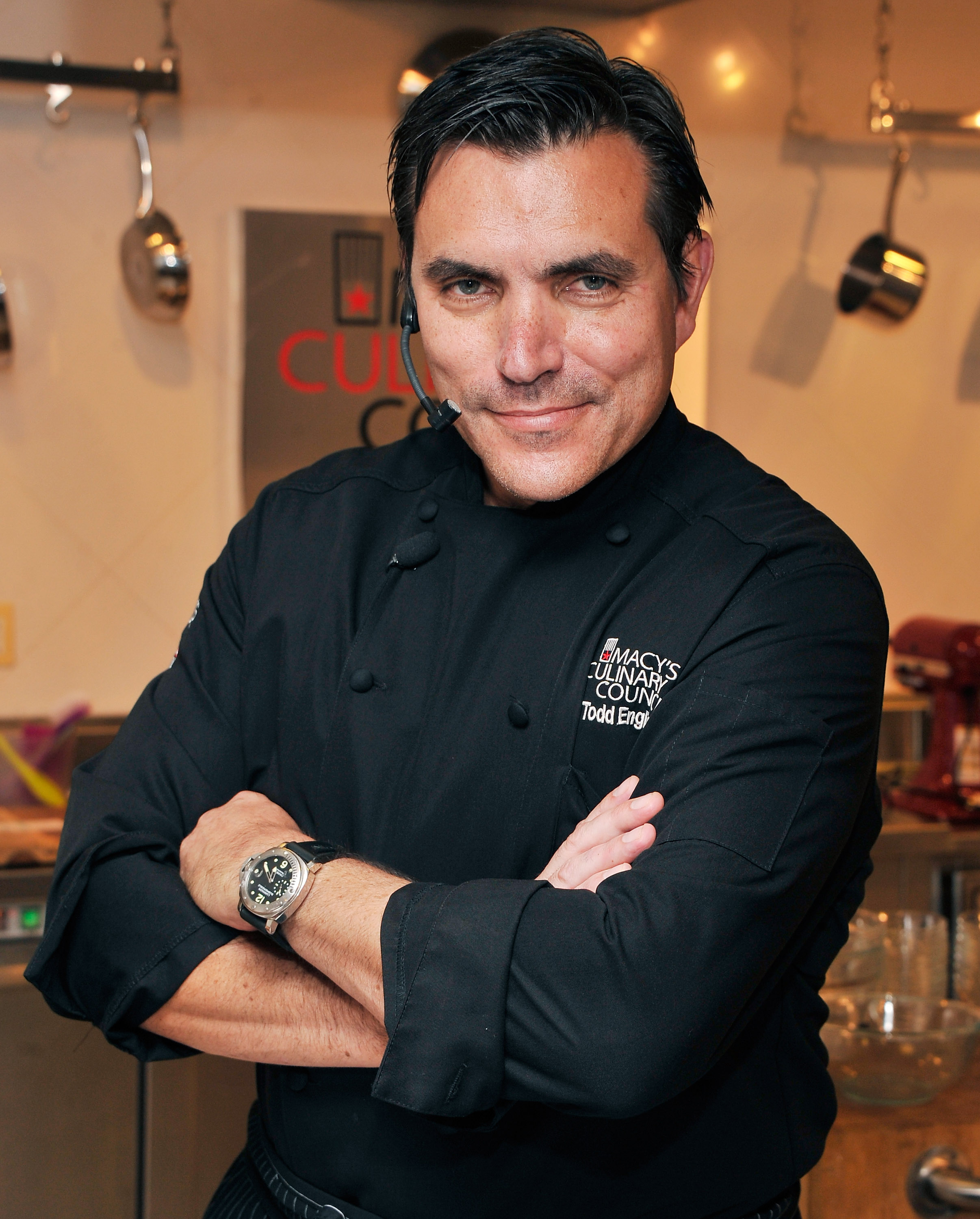 Barely a media—or social media—ripple was generated this past weekend by the Food & Wine Classic in Aspen, the annual high-altitude gathering of brand name chefs where Jacques Pépin, Marcus Samuelsson and Jonathan Waxman appeared on a panel about food memories, and Tyler Florence led a session on building better burgers.
Mario Batali, normally an Aspen fixture, spent the weekend posting photos on Instagram from his more thrilling-looking trip to Greece instead.
While there's been some chatter in foodie circles about Roy Choi's room-service thermoses of ramen at L.A.'s The Line Hotel, or Bobby Flay's kale "paella" at his new Noho restaurant, Gato, no celebrity chef has made headlines like Todd English, who was caught cavorting in a hot tub a few months back. 
A shirtless Mr. English, 53, was snapped looking glassy-eyed with his hands around three nearly naked young women in a Meatpacking District club called Provocateur. 
Page Six, The New York Post's gossip page, took at least three opportunities to publish it: "Star chef's recipe for fun? 1 hot tub, 3 topless girls," was the first headline, followed by an item on a troubled business deal and another reporting that the chef's publicist had sent out an email asking his associates not to cooperate with a forthcoming article in another publication. "The only thing he did was act 'inappropriately.' He is a single man who had one too many drinks. This is NOT a story," wrote Lindsey Valdez in an email that became exactly that.
When it was reported shortly after the hot tub incident that the W Hotel in New York had severed ties with Mr. English's company, which had been running an Olives there, it seemed as if the publicity about his nighttime affairs was starting to affect his daytime business dealings.
| | |
| --- | --- |
| The Page Six photo was still bothering his son Oliver English, who helps manage his father's restaurants. 'It's not ideal,' Oliver said, his eyes darting around as if he'd rather talk about anything else. | |
Mr. English rose to fame in Boston but lives in Manhattan when he isn't traveling to oversee his far-flung collection of restaurants and brand extensions. He is working on deals to open restaurants in Manila, Athens and Dubai; reaping up to $50,000 to make personal appearances and has just put the final touches on a deal to jump to QVC from rival HSN, where he has flourished for years selling his Greenpan cookware.
"Todd is a corporate brand," said Herb Karlitz, who runs a food event marketing agency and manages some of Mr. English's business deals. "Todd is doing events for major Fortune 100 companies."
But not all the news has been good in the Todd English empire. His flagship Olives in Boston closed last summer after a legal dispute with the landlord, and a Beacon Hill cupcake shop, Isabelle's Curly Cakes, opened in 2010 and touted as a partnership with his teenaged daughter, was shuttered this March with the landlord telling The Boston Globe that the rent had not been paid in months. 
An L.A. restaurant he used to operate with Eva Longoria is finally shuttering, and TMZ recently ran an item about an unpaid bill associated with his operations at the NYC Olives for thousands of dollars worth of frozen rabbits.
What's more, after Mr. English appeared on a 2012 episode of a Food Network show in which a contestant was supposed to win a job as a chef in a Todd English restaurant, the chef who had supposedly won the job was never given one and griped to the Huffington Post about it. He is now working a $31,000-a-year job at an inn in Port Aransas, Texas.
"I wanted out of the South," the still-upset Tully Wilson said in a phone interview with The Observer. "I wanted to work in New York City. I got nothing from winning the show on national television, not $10,000, not a job, nothing. Nothing from Todd except getting treated badly."
Mr. English's troubles echo those of the lead character in Jon Favreau's new movie Chef, in which the middle-aged former boy wonder Carl Casper is at a crossroads after calamitous social media involving him berating a critic (and a subsequent breakup with his girlfriend, played by Scarlett Johansson). But unlike Chef Casper, Mr. English has not returned to his roots by starting a food truck and selling gourmet sandwiches outside bars.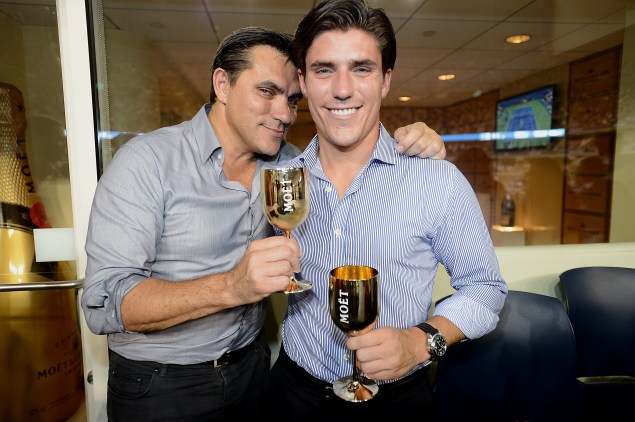 ***
While most celebrities look smaller in person, Mr. English actually appears larger, partly owing to a certain meatiness he has acquired. His vaunted blue eyes are far more alert than they appear in that hot tub shot.
We met in a conference room at Mr. Karlitz's Times Square office. With Mr. English was R. Couri Hay, the publicist he hired to supplement Ms. Valdez's efforts.
Regarding the Olives deal at The W, he blamed financial reasons having to do with high labor costs, along with bad timing. "I decided I'm not going to lose money just to keep it in this location, when I could move it somewhere else," he said.
It had nothing to do with his hot-tub dalliances, about which Mr. English was somewhat contrite. "Probably wasn't thinking too much," he said, folding his hands. "It's much better that I stay behind a hot stove than in a hot tub, is probably my answer to that."
He said he did know a photo was being taken that night at Provocateur, but that it was a private party and he thought he was among friends. "The fact that it was that one moment I get scrutinized for, it's very frustrating," he said. "I'm home in bed by 11 o'clock usually. When I'm in my restaurants, there's always somebody there to celebrate something. They want me to come out. My staff knows: Make sure that's sparkling water in my champagne glass. I don't want to go down that path of being the center of the party."
When the photo appeared, his first concern was his three children, and the second was his business," he said.
"I want to maintain my relationships with my partners," he said. "I care very much about my restaurants. Plus I want to be responsible to my children. That is one of my greatest achievements in life. I have three great kids who are all doing very well."
***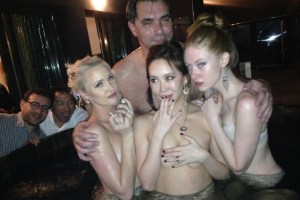 Chefs are, as has been said ad nauseam, "the new rock stars," but partying like one can be at odds with appearing in a boardroom the next day, talking clear-eyed to dealmakers of international hotel chains about multi-million dollar investments. It was almost refreshing to see Mr. English cutting loose, but can a chef like him get away with it?
Jean-Pierre Etcheberrigaray, a vice president of food and beverage for InterContinental Hotels Group, said he continues to be thrilled at the profitability of Mr. English's Ça Va, the Times Square restaurant which was reviewed negatively in the Times around the time of its opening, but has apparently flourished nonetheless. The hotel owns the restaurant, but generally the way these contracts work is that a chef is obligated to lend his name, set the menu, and show up with a specified frequency to oversee the operation in exchange for an up-front fee and a share of profits.
"What I want is a buzz in the food and for the restaurant to deliver what I call sexitude," Mr. Etcheberrigaray said. "If there is no sexitude, it's boring. It's just another hotel restaurant. Hot has to be hot."
Lee Schrager, founder of the South Beach Wine and Food Festival, said none of Mr. English's gossip page appearances have dissuaded him from inviting the chef back, nor is such attention what restaurant dealmakers care about.
"Does he show up? Is he reliable? Are the food costs in line?" Mr. Schrager said, listing more important concerns.
The operators of the Plaza Hotel, where the Todd English Food Hall is the anchor of the basement food offerings, are not expressing reticence either. The Food Hall is thriving, said Ariel Moses, a spokesperson. "The stories in Page Six are about his personal life," she said in an email. "And we respect his privacy as a valued vendor and a business associate."
Nor was there was any sign that Mr. English's peccadilloes were affecting his popularity among his peers when he was a host of Chefs Night Out, a party held the night before the James Beard Foundation Awards, at the Plaza. Posing for photographs with him (against a promotional backdrop, not in a hot tub) were the foundation president Susan Ungaro, the wine expert Josh Wesson, the former host of Ready…Set…Cook! Sissy Biggers, and the Chopped judge Aarón Sánchez.
The Page Six photo was still bothering his son Oliver English, though, who helps manage his father's restaurants and was present at Chefs Night Out. "It's not ideal," Oliver said, his eyes darting around as if he'd rather talk about anything else—especially his own designer line of socks and pocket squares.
"He's a better version of me," Mr. English has said of his son.
***
Bobby Flay, who has managed to straddle the line between TV fame and restaurant credibility, said Mr. English deserves admiration for his cooking chops along with his many successes.
"Chefs aren't rock stars," Mr. Flay said. "They are cooks. Unfortunately, chefs' recipes now fight for room in the newspaper with news of their personal lives. I guess people are interested in that. I'm not sure why."
Well, maybe because Mr. English's highs and lows are so dramatic that they make for good stories—and when he's willing to talk, he is open about topics including his troubled romantic relationships.
A planned 2009 marriage to his girlfriend of two years, Erica Wang, ended with the bride claiming he had left her at the altar. He claimed he had bailed days earlier because she was violent and had in one case struck him in the face with his own watch, causing injuries that required stitches.
"Would I like to have a partner in my life?" he said. "Yes, at some point. Hopefully I'll figure that out. Honestly, the mother of my children, we had a great partnership. I still love her and we just went different paths."
The life is similar to what he puts on the plate. Clay Conley, co-owner of the Palm Beach restaurant Buccan, spent a decade working under Mr. English, rising to become his culinary director, helping to run about 18 restaurants and to deliver the Todd English food experience to the public. "He layers a lot of bold flavors, textures," Mr. Conley said. "I learned from him to try to hit all the parts of your mouth, fatty acidic, salty, sweet. None of his food is delicate. I like that."