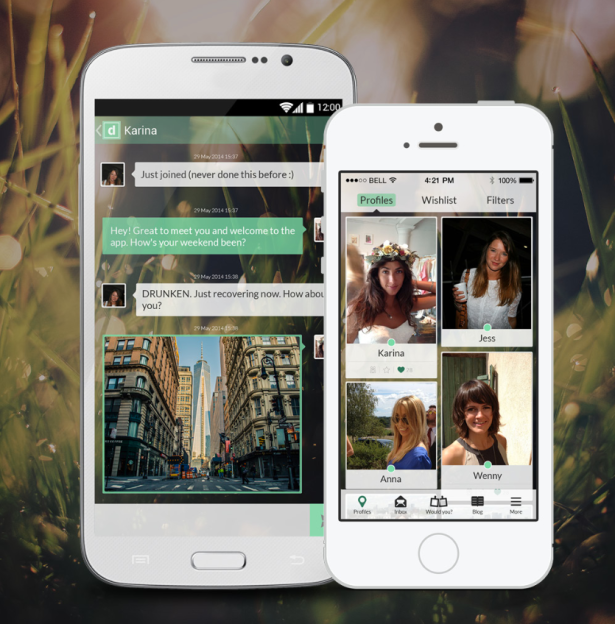 Online dating has become almost synonymous with dating as a whole — when was the last time someone you know went on a bona fide first date with a person they met in real life?
So it's surprising that until Dattch came along, there wasn't a single online dating site or app designed specifically for queer women. Sure, women who like women can use Tinder, OkCupid or even Grindr's female version. But sometimes, these apps don't connect gay women as well as they connect gay men and straight couples.
"When we took the straight structures and put women inside of it," British founder Robyn Exton told Betabeat recently, "no one was really messaging each other and nothing was really working. It was about realizing that all of these dating structures that exist have all been created, basically, just for men."
Sometimes, Ms. Exton told us, the developers can't even be bothered to change the pronouns — she and her friends have seen apps that would tell them, "he liked your page!" while pointing to a woman's profile. Others would ask users how much body hair they had — a characteristic that's much more relevant to gay men than women.
So Ms. Exton spent six months developing Dattch. The name is a portmanteau for "date catch," not a cockney slang term for vagina, as one of Ms. Exton's Twitter followers recently asked her.
Ms. Exton and her team designed the first version in a way that mimicked well-known dating apps, and found that it wasn't working. They overhauled it and retooled the app to be more like Pinterest, Instagram and even the Daily Mail's ever-popular right rail. The new version has been available in the U.K. since September 2013, where it developed quite a following. And now, it's launched in the U.S. so every woman ranging from bicurious to lesbian to pansexual can give it a whirl.
"I always compare it to like when you go to a buffet-style dinner," she said of the differences in dating habits of men and women. "Guys will normally take a plate up at the beginning, and they'll take a piece of every single dish as they go through that they want to have, whereas girls will go in there, they'll look around at every single station, and make sure they know what's at every one, then they'll go back and pick the things that they want to eat."
The differences don't end with women's tendency to browse and men's decisive actions. Men also tend to over-sell themselves.
"On the gay guy apps, they'll say that they're taller than they are," she said. "With girls, you always have the reverse problem… Girls are always underselling themselves."
A thin woman might describe herself as curvy rather than athletic, she said. Women also tend to describe themselves in ways that appeal to the broadest audience.
"It's like this sea of monotony of girls always defaulting to standard responses," Ms. Exton said. "Like, 'I like drinking red wine and going to the cinema and eating out.' And it's like, okay, so you are a human being."
Women need to be encouraged to share information about themselves, Ms. Exton said. In the early days of Dattch, there was a spot for text, where women could write whatever they wanted on their profiles. Almost everyone wrote, "Ask me," with a smiley face.
"A guy looks at that and is like, 'You're attractive. That's all I need to know,'" Ms. Exton said. "Whereas with a girl, they look at it and they're like, 'I really don't know what to ask about, I don't really have anything to message you about, so I'll leave it or I'll say something that sounds like, 'Hey, you have nice hair.'"
So now, Dattch has built-in prompts that do the asking so that women will find it easier to spark up a conversation. This, and other aspects of the app, are built to encourage women to take the plunge and message each other.
"Once we get past that first stage, we're the best communicators," Ms. Exton said. "Everything runs super smoothly from that point."
Dattch solves that problem by offering lots of information about each woman. Scrolling through someone's profile, you'll see pictures from her Instagram feed, a few of her answers to questions, and more.
The app uses age ranges and distance to filter results, but the emphasis on distance isn't huge. Many men-only or heteronormative apps, like Grindr and Tinder, have functions for finding out which potential mates are geographically closest to you. It turns out, only men really care about that. Ms. Exton found while building Dattch that women actually tended to pass by the users who were nearest to them.
"If you meet someone [nearby], it's quite likely that you're not wearing your date outfit, and you haven't got your makeup bag, and you're like, 'No, I don't want to go on a date tonight,'" Ms. Exton pointed out. "You need, like, three days [of notice]. When you've got two girls, it's double that behavior."
The site will be a boon to everyone from the bicurious, who can use it to safely experiment without the threat of public rejection, to out lesbians. Finding a girlfriend can be harder than it seems, Ms. Exton said. And finding queer friends isn't that easy either, which is why about 10 percent of users join Dattch.
"Going to a lesbian bar is terrifying," she said. "You walk in the door and you expect that everyone's going to turn around and be like, 'Hi! Welcome!' and instead it's just like, groups of women. It's really intimidating."
Thus, the app's main draw is "being able to access [other women] whenever you want, during downtime, when you first wake up, when you're going to bed — you're having a check-in to see who else wants to chat, who else is around, who's in your tribe, I guess."
A lesbian dating site's biggest problem is also its most cringeworthy — men posing as women to gain access to hundreds of elusive lesbians, the prettiest of whom must be dying to meet a man, any man, so that they can make out in front of him before becoming straight again when faced with his magical penis, just in time to get him off.
Luckily, Dattch has methods to weed out these imposters before they can say "threesome." To create a Dattch profile, you have to have a Facebook account — and Dattch has ways of figuring out if those profiles are fake, Ms. Exton said. People without Facebook accounts or who don't identify as female on Facebook can be verified through a Skype call with a member of the Dattch team.
And in the months since Dattch's UK launch, there have only been three reports of unwanted attention from fellow users.
"Girls are respectful of each other, so there isn't harassment," Ms. Exton said. "If a girl sends a message and she doesn't reply, she doesn't keep messaging her."
Wow, imagine that.
The most common reaction she gets from users, Ms. Exton said, is a huge "thank you." Her next challenge will be launching the app worldwide in hopes of appeasing the potential users who are writing her from China, France, Brazil and beyond.
"It's something that's way overdue," she said.