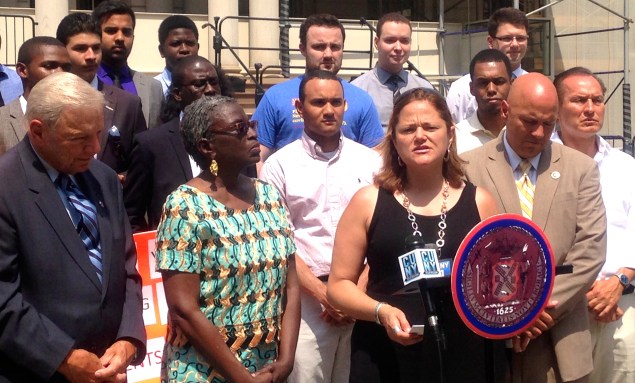 Council Speaker Melissa Mark-Viverito and a slew of elected officials announced today the restoration of the CUNY Merit-Based Scholarship Program, formerly known as the Peter Vallone scholarship.
In the new city budget, the City Council allocated $11.1 million into the program that will provide merit-based scholarships to New York City high school student graduates who are able to maintain a B average and above at City University of New York schools. The program will start in the fall of 2014 and will grant first-year students $400 dollars per semester for supplies, textbooks and other expenses.
The scholarship was named after the former longtime speaker of the City Council, Peter Vallone, father of current Councilman Paul Vallone. Ms. Mark-Viverito, an alumnus of a Baruch College graduate program, celebrated the restoration of the scholarship after her predecessor, Christine Quinn, cut funding to it.
"The CUNY Merit Scholarship represents our commitment today to our city's tomorrow by providing $11.1 million to reward graduates for their hard work and academic achievement and to connect them with the support and resources they need to succeed," she said.
Mr. Vallone applauded the unity of the City Council and challenged the prospective scholars to be at the top of their game. His brother Peter also served in the City Council and often feuded with Ms. Quinn.
"The challenge is, you be the very best you can be, and get that B average, and strive for the very best and we will stand with you, and we will give you the financial support to achieve that dream, to get the best CUNY education possible," Mr. Vallone said.
The elder Vallone, who attended the press conference, said that the scholarship's return wasn't about getting his name out there.
"It's not about the name, it's about the kids, the students that are important," he said.
Councilwoman Inez Barron, who chairs the higher education committee and is also a CUNY graduate, appreciated the liberal outlook of the current City Council. She said her goal is to still make public colleges free for all students, as they were until the 1970s.
"My ultimate goal is to return us to a time where CUNY will be free for all of those who maintain an average," she said.