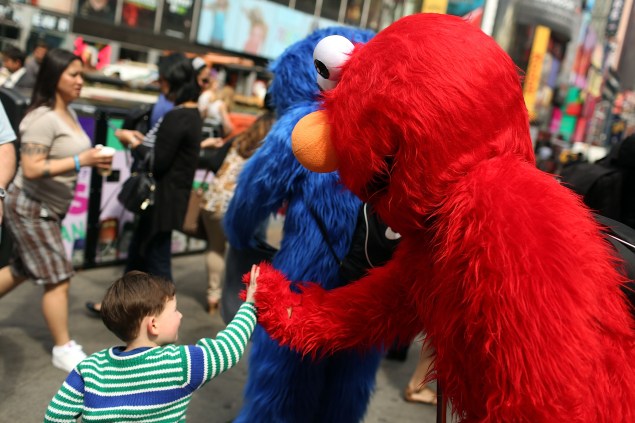 Though complaints about Times Square can fill an entire encyclopedia, at the latest Times Square Alliance's Midtown conditions meeting, one issue took center stage: how to deal with Elmo, Hello Kitty and Spiderman, among other costumed characters.
Costumed characters that panhandle or offer pictures in exchange for money have proliferated in Times Square, as noted by the Wall Street Journal, adding to the usual commercial chaos of the famed town square.
And while they may seem cuddly, elected officials said the characters are a serious problem.
"This is a cancer on Times Square that has to be excised soon. It spread from the West Coast, where it began in Hollywood, outside of Mann's Chinese Theater," State Senator Brad Hoylman said. "The panhandlers are exploiting the First Amendment, but I don't think you have a First Amendment right to harass and threaten people as some of these characters have done."
The alliance's director, Tim Tompkins, said they're not all bad — but their presence, and the number of complaints, has grown in the last two years.
"The problem is not with the folks that are out there making kids happy in an appropriate way, the problem is the folks that are both subtly and not so subtly intimidating and harassing people," Mr. Tompkins said.
The companies that own the characters being depicted are also interested in addressing this issue, Mr. Tompkins added, and having a way to get troublemakers out of their character's costumes. He called on the City Council to regulate them.
"If you have a licensing scheme, then you have the ability to leave the people alone who are doing the right thing, but also go after the people that are not doing the right thing" he added.
Manhattan Borough President Gale Brewer told reporters she was open to examining a slew of possible solutions.
"Legally, what do we want to do?  We want to regulate them? We want them to be licensed? How do we not infringe on the First Amendment?" she asked.
But she said those characters who are not doing the right thing have become a real problem for tourists and children.
"They accost people. I've seen it with my own eyes — they ask to take a picture, they ask for money, they chase people to the ATM sometimes for money. They are very aggressive and it doesn't show a good picture of New York," Ms. Brewer said.
Councilman Andy King has already drafted a bill that proposes a licensing scheme and will present it at the next stated meeting at the City Council. Mr. King said he knew his bill would have to be sensitive to First Amendment rights.
"We've talked with our legal department about how we craft this legislation to allow you to express yourself, because I support freedom of speech and your right to freely act, speak and engage, but the minute you violate somebody else's space then you have to be held accountable," he said.
Mr. King seemed confident about the future of the bill. "I do expect huge support of the council members, I do," he said.