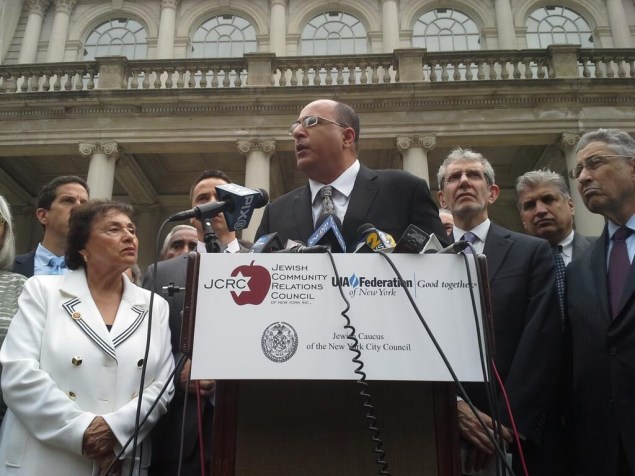 As the Democrats and religious leaders, one after the other, lined up once more to defend Israel, the cries beyond the City Hall gates threatened to drown them out.
"End the occupation now! Free, free Palestine!"
Dozens of protesters strained to interrupt officials like Congressmen Charlie Rangel, Jerry Nadler and the host of big-name Democrats who rallied for Israel on the steps of City Hall today as violence in the region fails to abate. Israel and Gaza, the Palestinian enclave, have traded rocket fire for a week, spurring the numerous pro-Israel politicians in New York to pile into City Hall to assert that Israel is on the right side of the conflict.
"The people outside protesting are protesting because innocent Palestinian civilians have been killed. It would seem to me the protest would be with Hamas because you cannot negotiate for peace if you cannot control those people who are supposed to be your negotiating partners," Mr. Rangel declared.
"As peaceful as I am, I find it impossible for me to believe that someone who says I should be dead, I should negotiate and see how dead you want me," he added.
Tension between Israelis and Palestinians boiled over after three Israeli teenagers were recently kidnapped and killed. Israel blamed Hamas, a Palestinian political party identified as a terrorist organization by the United States, and sent troops into the Palestinian territories. Palestinians claimed Israel was using the killings as pretext to further control and intimidate civilians and grew enraged after a Palestinian teenager, in what some claimed was a retaliation attack, was killed shortly after.
While Israel, with the aid of a United States-financed missile defense system, has intercepted many of the rockets launched their way since, Israeli rockets have killed almost 200 people, according to a New York Times report from today. The elected officials and pro-Israel advocates charged that the country is simply defending itself in hostile territory.
"Our enemies have sought the destruction of the Jewish people for thousands of years. Much of the opposition you're seeing to Israel and its policies, much of what you hear out there, is no more than a new face for a very old hatred and a very old evil," Mr. Nadler said, alluding to the protesters beyond the gates.
Congressman Eliot Engel, the ranking members of the foreign affairs committee, compared Hamas to the terrorists that carried out the September 11th attacks.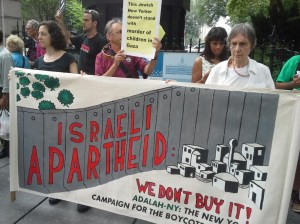 "Not so long ago, just a few blocks away on September 11th, 2001, terrorism reared its ugly head in New York City and Hamas is a terrorist group. Hamas is in sympathy with the people who knocked down the World Trade Center," Mr. Engel said. "Hamas has killed many innocent men, women and children–they have a disregard for human life."
Outside the gates and in City Hall park, the raucous protesters rarely let up during the nearly hour-long press conference. Unfurling a sign that accused Israel of carrying out an Apartheid system in the Middle East, the protesters from various pro-Palestinian groups remained after the many Democrats, including Assembly Speaker Sheldon Silver and members of the City Council and Assembly, shuffled away.
"The New York City Council is not representing the City of New York by coming out in support of the incredibly violent Israeli aggression that's been happening over the last week in particular and in general for the last several decades," said Conor Tomas Reed, an English professor at Medgar Evers College. "The City Council needs to look at its conscience and if it is supporting Israeli aggression then it has blood on its hands."
Just as Mr. Reed was speaking to a reporter, a couple of Orthodox men fell into a shouting match with several pro-Palestinian protesters. Police soon split them up.
The protesters were hoping sheer size and volume would make up for what they lacked–establishment political support.
"These public officials are speaking as if they are New York. The main thing is they are not New York. We are also in New York. We are Jews, we are Palestinians, we are Christians, we are athiests, we are people who live here and we don't stand with Israel," said Dorothy Zellner, who described herself as a spokeswoman for the protesters. "This is the kind of situation where the big organizations, the big donors have their way."