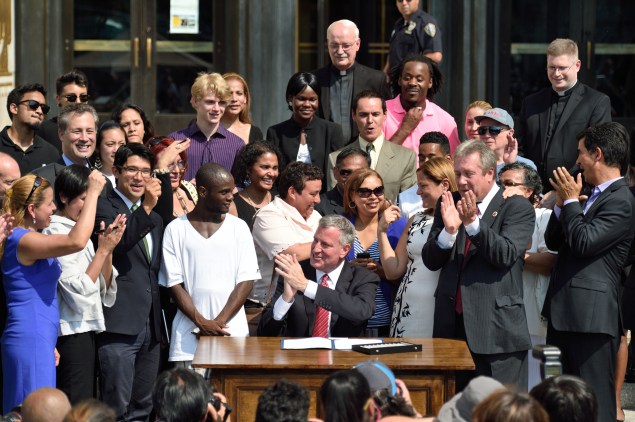 Municipal identification cards will be coming to New York City next January, but many questions about the ambitious program remain unanswered.
Mayor Bill de Blasio and his Mayor's Office of Immigrants Affairs commissioner, standing with Council Speaker Melissa Mark-Viverito and a host of other officials, could not tell reporters today how much the cards would ultimately cost to applicants, what documentation will be required to obtain the cards or how financial institutions will be convinced to accept them. The New York Civil Liberties Union, typically supportive of the Democratic mayor, also withdrew their support for the program, citing fears that the cards could be used by the government to identify and penalize undocumented immigrants.
Speaking with reporters outside the central branch of the Brooklyn Public Library at a bill-signing ceremony, Mr. de Blasio dismissed those fears while remaining vague about many of the details of the $8.4 million municipal I.D. initiative.
"I do understand the theoretical argument about what some downsides might be, but I am much more focused on the here and now reality that hundreds of thousands of New Yorkers are suffering for lack of an I.D.–and that's the problem we have to solve," Mr. de Blasio declared.
Nisha Agarwal, the MOIA commissioner, said the city will work to protect individual confidentiality by destroying any documents the city holds after two years, and ensuring that any access from law enforcement will be subject to a judicial warrant or subpoena.
"We believe we can defend against any sort of attempts to access these documents that are a fishing expedition of sorts, so we are very confident about the security and confidentiality of these cards," Ms. Agarwal said.
Though the bill to make the cards a reality overwhelmingly passed the City Council–where advocates argued the cards will allow undocumented immigrants and others without more typical I.D. cards to open bank accounts, rent homes and take advantage of other crucial services–much of the logistics of the program will be left to Mr. de Blasio's administration to solve. That has irked some council members, who felt too much authority over the program's implementation was ceded to the executive branch.
It's not clear yet how major banks and credit unions will be able to accept the new I.D.'s, which Ms. Agarwal said would be resistant to fraud, yet another concern raised by the NYPD and some conservative critics. Ms. Agarwal said a "conversation" has begun about the cards with financial institutions in the five boroughs. (Cities that have implemented a municipal I.D. program with relative success include Oakland and New Haven.)
"We have begun a conversation with banks in New York City and credit unions and we're working hard to ensure that the banks will accept this card," she said. "We believe that the parameters of this card will meet the necessary federal regulations around what I.D.'s banking facilities can accept."
Ms. Mark-Viverito, a leading advocate of the program, said she would proudly sign up for a municipal I.D. even though she already possesses proper identification cards. The city, however, hasn't explained how it will convince New Yorkers who aren't among the half million undocumented immigrants–many of whom may also be wary of coming forward to participate in a government-sponsored program–to sign up for cards. Nor have they explained how they'd prevent the cards from evolving to stigmatize those who are undocumented, homeless or lack the ability to gain a different form of identification.
Mr. de Blasio and Ms. Agarwal also could not clarify how people already missing the documents required to secure a driver's license or another form of I.D. will be able to secure an I.D. in the new system. Applicants will need to prove their New York City residency and identity; Ms. Agarwal insisted the city is in the process of "finalizing" what proof will be required.
The mayor said the cards would be free, but only for the first year. Afterwards, a cost will be tacked on. That, too, was not revealed to the public.
"We want to make sure whatever it is it is affordable to every day New Yorkers," Mr. de Blasio said.