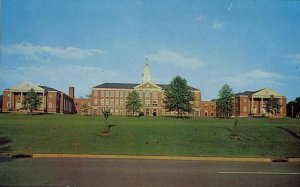 RAMSEY – One of the most distinctive features of this approximately 15,000-person northern Bergen County borough is the long, rolling lawn in front of the local high school. This November, Ramsey voters will roll into their voting booths with more choices on the ballot than usual.
First and foremost, Ramsey residents will decide who will fill the seat left vacant by Republican incumbent Mayor Christopher Botta, who did not choose to seek reelection. Seeking a four-year term are Independent Richard Muti and Democrat Julie O'Brien and Republican Deirdre Dillon. At the same time, Ramsey voters will choose between Republican incumbent Kathleen Donovan and her Democratic challenger, Bergen County Freeholder Jim Tedesco, in the Bergen County Executive's race; six-term incumbent U.S. Rep. Scott Garrett (R-5) and Democratic challenger Roy Cho in the Fifth Congressional District contest; and Bergen County native U.S. Sen. Cory Booker (D-NJ) in his reelection bid against GOP challenger Jeff Bell.
Muti, 74, served as Ramsey's mayor from 2003 to 2007 and changed party ranks during his term because he was "not happy" with the way former Bergen County Democratic Chairman Joe Ferriero ran the local Dems, including what Muti asserts were Ferriero's pay-to-play practices. Ferriero was convicted on federal corruption charges in 2009.
Muti also disagrees with the whole partisan set-up of Ramsey elections to begin with.
"I just don't think that partisan politics has any place in local government," said Muti, who lost the 2006 Ramsey mayoral race to Botta and a Democratic candidate by a total of 189 votes out of more than 5,000 votes cast. "There is no Democratic or Republican way to resurface roads or manage a town's finances. There is no logical reason to have a Democratic or Republican ticket with those party labels attached to the candidates' names. Mahwah, which is right next us, is non-partisan. I don't believe that local government should elect its leaders on the merits of a party label, but on the merits of the candidates."
Muti referred back to his days as mayor to address how to deal with the problem that plagues Ramsey, Bergen County and all over New Jersey: the highest property taxes in the nation.
"One of the major accomplishments of my term in office was bringing the cost of personnel salaries and benefits under control," Muti, who has served on the Ramsey Board of Education since 2009, said. "Many considered me very anti-public employee union because of my strong stand in that regard. But property taxes is pretty much the singular issue of any New Jersey community, and the major driver of property taxes is personnel costs. About 75 percent of every municipal budget and every school district entails the salaries and benefits of employees. I've proven that I can negotiate on behalf of the public employers, achieve good results and save a lot of money. The state's fiscal climate is going to get worse, and Ramsey is going to have to deal with the future when state aid gets cut. We need leadership in the town that will be able to deal with those challenges."
O'Brien, who served as a Ramsey councilwoman from 2003 to 2006 and as a Bergen County freeholder from 2007 to 2010, explained why she wants to return to local government.
"Being potentially the first woman mayor of Ramsey is something that's been on my mind for twenty years," said O'Brien 56, who works for a non-profit anti-poverty agency. "People are worried about their property taxes. People are worried about their children's education. People are worried about our teenagers dying of heroin overdoses. Having lived here for 46 years and having raised my four children here, it's a great town and I have a big stake in it."
O'Brien feels that while the state-mandated 2 percent property tax cap keeps the local tax burden somewhat under control, Ramsey should look in other places to find ways to lessen the burden on local homeowners.
"Outside-the-cap items, like the water and sewer bills, have gone up exponentially," said O'Brien. "It's a way to keep the budget balanced, but it's done on the backs of the rate-payers. It's something that's going on in a lot of towns, where they're using anything outside of the cap to be able to infuse cash into the budget. I don't think that's right. Something that I tried to do when I was on the Ramsey council was to create a health care insurance consortium [for municipal employees] for towns in the area. If the local towns can get their unions to sign on an agreement, together these towns, by buying insurance together and pooling resources, would save money."
Dillon, a member of the GOP slate that defeated Muti in the 2006 Ramsey mayoral election, points to her work on the borough council as an example of fiscal responsibility.
"We're become tighter since Mayor Botta took over and I've been on the council," said Dillon, 51, an in-house counsel and chief compliance officer for a registered investment advisor. "The police force is smaller than it was under Mayor Muti. We've also taken opportunities where we can to leverage our employees. A couple of years ago, the borough engineer and the department of public works director retired around the same time. We replaced them with one person, and one salary. We do our best to hold down municipal costs."
Dillon, like O'Brien and unlike Muti, thinks partisan politics still has its place in local Ramsey elections.
"If you don't know the candidates personally, if someone has branded themselves as a Republican, you have an idea of how they're going to behave. If someone is a Democrat, you have an idea of how they're going to go on certain issues," Dillon said. "If someone is an independent, you have no idea how they're going to go on an issue, none whatsoever."
While Ramsey voters tend to cast their ballots for Republican candidates, the majority of the borough's approximately 9,700 registered voters are unaffiliated: around 22 percent of Ramsey voters are registered Democrats, 28 percent are registered Republicans and 50 percent are unaffiliated.
All three candidates agreed that while other elections will be decided on this year's ballot, including a highly contentious county executive's contest in which the slightest voter surge in any Bergen town could make a difference, the Ramsey election will be decided on local issues.
One issue brought up by both Muti and O'Brien is the influence of the Ramsey Republican Club on the borough's politics.
"There's been an arrogance in local politics, in which a small group dominates and doesn't include everyone," O'Brien said, citing decades of near-total Republican control in Ramsey. "That's not democracy, particularly not democracy in the town I grew up in."
O'Brien went further, mentioning the alleged role that Ramsey resident Bridget Kelly, a former close aide to Governor Chris Christie, played in last year's George Washington Bridge access lane closures scandal now under investigation, also known as Bridgegate.
"It's an embarrassment to Ramsey that all of this stuff is out there," O'Brien said in reference to Kelly, who chaired the Ramsey Republican Club from 2005 to 2011. "She's got her supporters in town, but people are tired of all this."
"In the last 28 years of Ramsey's history, except for my four years as mayor, Ramsey has been controlled by the Ramsey Republican Club. They pick their candidates, put them on the ticket, and they usually get elected," Muti said. "It's my contention that one-party government is hidden government that acts behind closed doors and that has cost Ramsey taxpayers hundreds of thousands of dollars, if not millions."
"Bridget Kelly has not been involved in the Ramsey Republican Club for several years, and she has nothing to do with us regarding the mayor and council," countered Dillon. "As for the bridge, my husband got caught in that traffic. Again, we had absolutely nothing to do with something that was just so incredibly stupid and preventable."
"I would like [Muti and O'Brien] to give me an example of someone who has been shut out [of Ramsey politics]," added Dillon. "Mayor Botta has appointed both Republicans and Democrats to various boards and commissions in town. We don't look at someone's party affiliation when we make decisions. We look to see if we trust their judgment. We're very transparent."