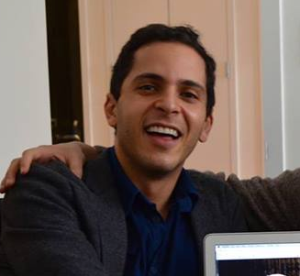 Rap Genius cofounder Mahbod Moghadam might not be working at the startup he helped create (which was recently rechristened Genius) anymore. But he's not going quietly — he recently revealed he's working on a book about his time with the startup formerly known as Rap Genius.
We had to get some more details, so we emailed Mr. Moghadam some questions about his new project and his past experiences. Also check out this book teaser Mr. Moghadam shared with us from his upcoming tome, Genius Inc.
What are you up to now that you're no longer with Genius? How much time are you spending on the book? What other projects are you working on?
I am working full-time on the book. It is going to be the Torah of tech, I feel like Moses right now….
You made headlines a lot for your antics while at Rap Genius. It infused the brand with a spontaneity and wackiness not often found in tech companies — but it also, obviously, had its consequences. Was this an extension of your own personality, or a branding strategy that backfired?
I'm not even sure anymore! I am a weird dude, but I am not a bad dude… let me ask my therapist about this one and get back to you….
Starting a business with your friends must have been a combination of awesome and awkward. How did you balance your professional and personal relationships? Were there ever any speed bumps?
It was pure awesome. The past 5 years have been a dream, I have been living a dream life. Genius is an art project that got way out of hand, it is a lot of fun and it is going to be the biggest ish on the Internet soon: Wikipedia and Facebook had a baby.
Are you still in contact with Tom and Ilan? How often do you guys talk?
We talk every day. I tell them my hopes, my fears – we are BFF.
Some people thought your annotations on Elliot Rodgers's manifesto were tasteless and misogynistic. What's your response to that?
I didn't mean anything bad, but I feel really stupid and I know what I wrote hurt a lot of people.
You're a hilarious writer. Who are your biggest influences and why? What's your secret for writing funny?
Really you think so? Awww thanks Molly! You're funny too. My biggest influence is Charles Dickens, David Copperfield is my favorite book, and the book I am modeling my own after. Kanye West is also a major influence.
My secret for writing funny is that I do all of my writing butt naked.
I have to ask: what's the most outrageous/bizarre thing you've spent your startup cash on?
Molly this was a dangling preposition [Ed.: everyone needs to chill out about dangling prepositions], but I will answer your question regardless! I shun material things — I am going to spend all the money I get from the book on Bitcoin, because I believe Bitcoin is "Internet 2.0" and it going to change the world and help the poor.