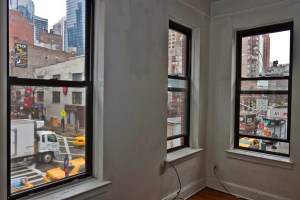 Transparency has not, historically, been a particular strong suit of New York City's residential brokerage community. It is the rare real estate market that lacks a multiple listings service, or M.L.S., that the public can pursue. And when StreetEasy launched in 2006 it was met with a great deal of shock and horror from brokers across the city. It was the first time that listings from numerous brokerages had been featured in a catch-all site—a collection of unprecedented comprehensiveness and transparency (it also tracked units' pricing and sales data) made possible by the fact that StreetEasy added listings to its database whether brokerages wanted to share them or not.
Eight years later, most of the city's brokers have learned to either love or at least live with StreetEasy, though New York still lacks an MLS. (This spring, the Real Estate Board of New York made a tiny gesture toward creating one with an IDX—Internet Data Exchange—for the REBNY Listing Service, which allows participating firms and agents to display listings from other participating firms and agents, but its reach is very much limited by the voluntary nature of the exchange.)
But New York newbie, William Raveis Real Estate, which opened its first office in New York City this June (and its 100th overall), has decided to embrace shared listings. The brokerage will be the first in New York City to feature a framed-out search portal to StreetEasy from its site. (New York Magazine also has a StreetEasy portal.) "It just made sense," Kathy Braddock, managing director at William Raveis New York told the Observer. "When we ask buyers where they look for apartments, they all say StreetEasy. We wanted to give the consumer the same transparency they get in the other 99 Raveis offices and we had the advantage of coming into this market brand new."
Ms. Braddock said that in her experience—she has sold New York real estate for years at Rutenberg Realty—the city's big firms "really didn't want to promote other firms' listings."
But if buyers are all searching on StreetEasy anyway, why not help them search through your site, where they might call a William Raveis broker to act as a buyer's agent if and when something catches their fancy?
"It wouldn't surprise me if a Raveis customer saw something they liked and called us," said Ms. Braddock. "In fact, we've already received some business through it."
But the main goal, she maintained, was to give clients, particularly out-of-towners with limited knowledge about the workings of the New York City real estate market, a better browsing experience.
"We wanted to make the customer less frustrated," she said. "The way we do things here is so backwards."