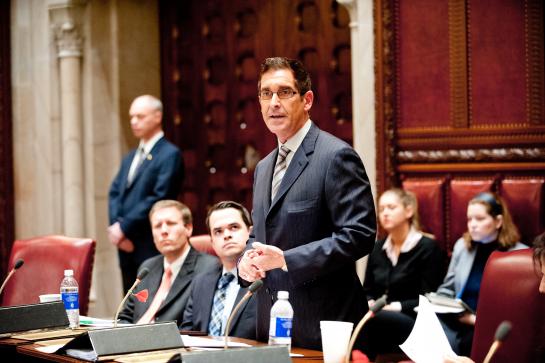 Last week, the Observer ran an article reporting on donations that real estate firm Simone Development (formerly known as Hutch Realty Partners) and its affiliate, the Hutchinson Metro Center, made to the political campaign of Bronx State Senator Jeff Klein. The Observer repeatedly reached out to Simone Development for comment between July 11 and the article's publication on July 18, but received no response. On July 22, a representative for Simone sent us the following email. The Observer's response is below.
Request for Corrections to Article on Simone development and Senator Jeffrey Klein
Will: I represent Simone Development Companies and have been asked to reach out and request publication of clarifications or a retraction regarding your article "Jeff Klein Received 10K Donation from Mob-Tied Real Estate Firm" (New York Observer 7/18/2014):
The phrases "mob tied real estate firm" and "mafia affiliated organization" in your article are blatantly false and lend the weight of "fact" to allegations by a prosecutor that were made 20 years ago (is there a media statute of limitations on allegations?).  This is unfair because the actual facts are that the two investors cited were charged with several offenses, but ultimately pled to a single misdemeanor. No ties to organized crime were ever established in a court of law. Nor are these individuals "principals" of Simone Development, and they never have been.
Michael Contillo and Joseph Deglomini, Sr. were junior investors in Hutch Realty Partners. They retain a very minor (and non-controlling) investment in Hutchinson Metro Center. But they are not principals of Hutchinson Metro Center. They are not executives of Hutchinson Metro Center. They are not board members of Hutchinson Metro Center. They do not direct political contributions of Hutchinson Metro Center.
Michael Contillo and Joseph Deglomini, Sr. are not executives or principals or board members or investors in Simone Development.
Hutchinson Metro Center is home to a number of City, State and Federal government agencies, including the NYPD and the Bureau of Alcohol Tobacco and Firearms, as well as the Bronx Chamber of Commerce. It is a class A office, retail and medical (and soon to be hotel) that represents the very best space in the market. With several city, state and federal government agencies as tenants, Simone Development and Hutch Metro Center have been thoroughly vetted, and qualified through VENDEX and other measures in order to do business with the City, State and Federal government. No evidence of any link to organized crime was ever uncovered during these investigations
Simone Development's contributions to politicians regardless of party are a matter of public record and perfectly legal. They support the work these elected officials do and communities they represent. Singling out Senator Klein seems unusual, unless there was some ulterior motive involved in linking the Senator to unsubstantiated charges of "mob ties."
Simone had no relationship with Senator Klein prior to 2006, after they assembled the Hutchinson Metro Center site. He is a full rent-paying tenant at their Bronx campus because of its central location and availability of Class A office space, a rarity it the borough. Your story infers that Simone has somehow bought influence with Senator Klein through their contributions, which he has categorically denied on the record. In fact, Senator Klein most recently led a campaign to get legislation planned that BLOCKED Simone Development's proposed, as-of-right 11-story medical center for Montefiore Hospital in Riverdale. (http://www.bxtimes.com/stories/2014/28/28-monte-2014-07-11-bx_2014_28.html )
There are also errors regarding your presentation of the "windfall" Simone received on the 911 Call Center site. The description fails to account for millions of dollars worth of infrastructure improvements made by Simone between the time of acquisition and the time of sale. In fact, Simone DID NOT WANT TO SELL this portion of their Hutch Metro site as it was considered the prime location within the expanding development due to immediate access to the highway and #6 subway station
The development of Hutch Metro Center has created over 8,000 permanent jobs, as well as thousands of construction jobs, over the past decade.
It seems to me grossly unfair to besmirch the reputation of an entire organization based on such inaccurate information reported in your article and we request a retraction or at the very least a clarification of the items listed above. Please call me at your earliest convenience to discuss. Thanks!
Eric R. Gerard
Senior Vice President
Great Ink Communications
***
The Observer's response:
In referring to Simone Development, Hutch Realty Partners, and the Hutchinson Metro Center as "mob-tied," the Observer follows the Daily News, the Village Voice, Curbed, the Huffington Post, and the New York Post. The figures in question are Michael Contillo and Joseph Deglomini, who are also owners of plumbing contracting firm De-Con Mechanical. Mr. Contillo and Mr. Deglomini were indicted on tax fraud and racketeering in collusion with organized crime in 1994, and took a plea deal in which they confessed to falsifying business records and paid a $1 million fine. This, however, is not the only time or place Mr. Contillo and Mr. Deglomini's company's ties to the mafia have been noted. In his book Gotham Unbound: How New York City was Liberated from the Grip of Organized Crime, New York University professor and racketeering expert James B. Jacobs wrote of De-Con: "One major plumbing company, De-Con Mechanical, was so closely connected to the Mafia that it did not need to make payoffs to avoid burdensome collective bargaining contract provisions." Also, in 1993—the year before Mr. Deglomini and Mr. Contillo's indictment—Manhattan assistant district attorney Michael Cherkasky, known for his prosecutions of John Gotti and the Gambino family under Robert Morgenthau, referred to De-Con as being connected to then-Lucchese family acting boss Steven Crea. Additionally, De-Con Mechanical has been permanently banned from doing any kind of work for the New York City School Construction Authority. The Observer is awaiting an answer from the agency as to the exact reasons for De-Con's disqualification, and will publish it upon receipt.
Mr. Gerard states that Mr. Contillo and Mr. Deglomini are not principals of the Hutchinson Metro Center, and on this point he is correct. The original Observer assertion was based on a slight misreading of Security and Exchange Commission documents. Mr. Contillo and Mr. Deglomini are principals of Waters Place Development—named for the thoroughfare the Hutchinson Metro Center sits on—and Waters Place Development is a principal in the Center itself. This misunderstanding on the Observer's part was compounded by an online press release from Simone Development referring to a Joseph Deglomini as a principal in the company. According to Mr. Gerard, this person is Joseph Deglomini, Jr., son of the Joseph Deglomini indicted on racketeering charges. A correction to the original article has been made to reflect this information. Mr. Gerard, however, goes a bit far in his effort to disassociate Mr. Contillo from the firm. Federal Elections Commission filings show that Mr. Contillo reported his occupation as "real estate developer" and his employer as "Simone Development" in a donation to the Republican Federal Campaign Committee in March of this year. Further, a 2012 contract of sale for a property in Long Island identifies Simone Development president Joseph Simone, Mr. Contillo and one of the Messrs. Deglomini as the owners of 1436 Broadway Realty LLC. That same contract lists 1436 Broadway Realty LLC's address as "c/o Simone Development Company LLC at 1250 Waters Place, Bronx, NY, 10461″—the address of the Hutchinson Metro Center.
The Observer never asserted that the donations were illegal, nor that Mr. Contillo or Mr. Deglomini were responsible for them. The article printed a statement from Mr. Klein's spokeswoman Candice Giove mentioning that several agencies rent space in the Center, and that the senator decided to move his office there because of its convenient location, and denying that the contributions were in any way connected to the relocation. Additionally, the piece noted that the Hutch group had given to a large number of candidates. Its contributions to Senator Klein, however, far exceed its donations to any other individual or entity. The article was one of several the Observer published examining contributions made to New York candidates in the filing period that ended earlier this month. The $10,000 donation was newsworthy because it was the largest the Hutchinson Metro Center made to a candidate during that period, and because of Mr. Klein's prominence in New York State politics as leader of the Independent Democratic Conference.
The Observer cited a Daily News report on the land sale. Had Simone Development responded to requests for comment in a timely manner, their perspective on the deal would have been included in the original article.
The number of jobs created at this site is completely immaterial to the story.