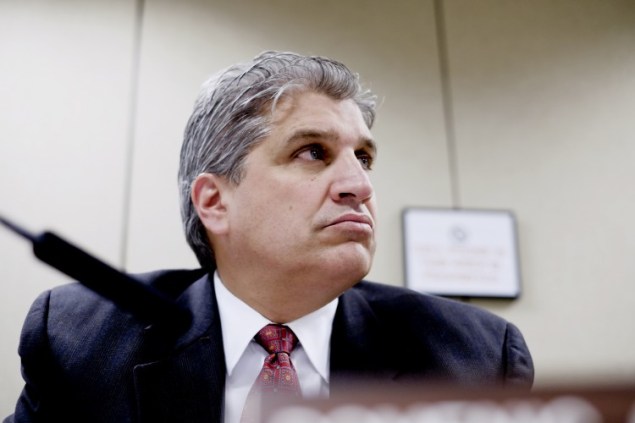 Just a day after promising not to build low-income housing in Staten Island, former Councilman Domenic Recchia–who is challenging GOP Congressman Michael Grimm–softened his stance.
The Brooklyn Democrat said yesterday that he would not allow new residences for the poor to go up in the right-leaning borough–in spite of Mayor Bill de Blasio's ambitious goal to create or maintain 200,000 units of affordable housing citywide. Mr. Recchia's comment came after the Staten Island Republican Party fired out an e-mail claiming that Mr. Recchia would rely on "Brooklyn housing project votes" to get elected and would "surely build low-income housing in our neighborhoods with his cronies at City Hall."
"Listen, we're not building no low-income housing. I am gonna represent all the people in this district. I'm gonna represent everyone from the south shore to the north shore of Staten Island and to all of Brooklyn," Mr. Recchia told the Observer on Monday.
This afternoon, however, Mr. Recchia refused to commit to obstructing or assisting the construction of bottom-rate rentals in the southern Brooklyn and Staten Island district.
"The people of this district will decide, and I work with the people," Mr. Recchia told the Observer in an interview.
When pressed on what he would do if the populace indicated they did not want units for low-income earners in their area, Mr. Recchia refused to speculate and argued that the issue lay outside the orbit of the office he is seeking.
"I'm running for the United States House of Representatives," the candidate said. "I don't handle these things."
The pol said he had yet to meet with the mayor to discuss his agenda, but said he looked forward to cooperating with him.
"Listen, we're Democrats, Democrats work together, and with Republicans, and we all stand together," said Mr. Recchia. "We served together in the council and we will work together."
Mr. Recchia blamed the attention to the housing issue on Mr. Grimm, who faces a 20-count indictment for tax fraud at a restaurant he owned prior to his election.
"When your campaign is going down and you feel like you're behind, you do desperate things," Mr. Recchia said.