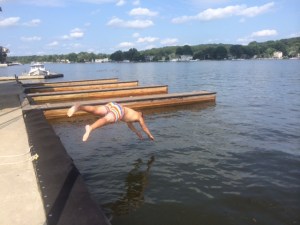 LAKE HOPATCONG – Politics, in some ways, is about control. Right now, it could be argued that man does not control the four municipalities in Morris and Sussex counties that border Lake Hopatcong.
Instead, a reported sighting of a 16-foot-long anaconda swimming free in the lake has added a tinge of reptilian menace and psychological disturbance to an otherwise placid summer on one of the most beautiful bodies of fresh water in New Jersey.
Initial reports last week that the reptile was a boa constrictor gone astray were later contravened by Gerald Andrejcak, a reptile specialist with Common Sense for Animals, a nonprofit organization based in Warren County, who identified it as a green anaconda, the world's largest type of snake. For Andrejcak, who has conducted his search for the snake largely on his kayak, the search for the truth is daunting at best and frustrating at worst.
"I would be a lot easier if people would just leave this thing alone and kind of forget it's there, but I know that's not going to happen," Andrejcak, 44, of Alpha said, referring to the area in and around Halsey Island, where the anaconda has reportedly been sighted. "With all the boat traffic in that area, it's making things ten times worse. I'm afraid they're going to chase it to another section of the lake where it's quieter. People want to try to take pictures of it. They want to try to apprehend it. I almost got creamed twice going from the mainland to Halsey Island in my kayak. One [individual] came by so close, I thought I was doomed.
"I saw the snake. I felt the snake. You can actually smell the thing. But I would not be out there trying to do this on my own if I wanted to see this thing dead," Andrejcak added. "I want to get this thing out of the water, get it safe preferably in a zoo somewhere and restore order to the community. I want the worst scenario eliminated – some idiot, jumping in the water and trying to grab a hold of this thing. Then it decides to defend itself, and somebody gets really hurt."
With the exception of help from animal control officers from Jefferson Township and Hopatcong, two of the towns that abut the lake, Andrejcak feels that he has had almost "no help" with his quest to capture the creature.
"People say to me, 'Where's the pictures?' Look, I'm not out there with a camera. I'm out there with my wetsuit and my stick to get the thing out of there," Andrejcak said. "I'm not getting paid. It's not about that, it's about getting normalcy restored to the community. Honestly, I think all [local law enforcement] wants to do is shoot it. The day that I saw it, two state trooper boats came out, and there's two guys with hands on their pistols. I don't need that. You get a local there, you get a state policeman out there, the first thing it's going to be is shoot first and ask questions later. I don't want that. These things are not human-killers. The thing swam through my legs. It touched both legs. It didn't turn around and attack me. It wanted to get away. But if it's cornered, it's going to defend itself. That's what they do."
As for nearby Hopatcong State Park, Andrejcak didn't think it should be closed, only that common sense apply.
"I wouldn't let your chihuahua go swimming," Andrejcak said. "I wouldn't put my two-month old toddler in the frigging lake. That's asking for problems."
As for the state police officers stationed on Lake Hopatcong, the reported sight of hands on holsters does not mean that they have a shoot-to-kill policy regarding the snake.
"We're aware of the reports, but our troopers have not laid eyes on the beast. We're keeping our eyes peeled,'" said public information officer Capt. Stephen Jones. "There are no injuries, that we are aware of, to people or the snake. When they're standing around, people often put their hands to their hips. We have these guns strapped to our hips, so your hand kind of naturally rests on the top of the gun, which is in a secure holster. It doesn't mean anything. It's a place to put your hand, that's all."
"We have not been able to confirm the presence of an exotic snake in Lake Hopatcong," said Larry Ragonese, spokesman and self-designated "myth-buster" for the New Jersey Department of Environmental Protection (NJDEP). "There's no picture, there's no video, we don't have any confirmation that such a creature exists. We're not discounting what residents have said they saw, but we can't confirm it yet. But there's a push to do the Loch Ness story here. We've sent people out from our Fish and Wildlife division who have put out traps. We've been at the place where the snake comes every dawn and dusk. We have not seen, or seen any indication, of the snake. You've got to deal with facts, you've got to deal with science. But if there's a need for us to go above and beyond the norm, we'll help and reach out."
As for Mount Arlington Mayor Arthur Ondish, who presides over one of the towns that touch Lake Hopatcong, he seemed not too concerned about whatever might lurk in the lake.
"What are we doing for this? We're doing nothing for this," said Ondish. "This is a snake that is probably scared to death. It was probably a pet that was let go and it's now alone in the wild. It's all the way up there, five miles away from us in Jefferson Township. I'm not thinking that the snake is going to be swimming five miles to come to Mount Arlington, that's for sure. It's certainly not going to be looking for people.
"The state controls the lake," said Ondish, a Republican, who chaired the Lake Hopatcong Commission for more than five years. "As soon as you step into the lake on foot or in a boat, you're in the state's domain. I feel bad for the snake, and I hope it gets rescued before it dies when it gets cold. It didn't mean to get let out there. This snake should be one thing we can get together on and not worry about party affiliation. Unless the snake's a Democrat."
For Brenda Fisch, whose family has owned Espanong Market and Cafe in Lake Hopatcong since the 1920s, whatever happens in the lake impacts everyone around her.
"I've always lived on the lake, and we've noticed that the kids that usually swim in our lagoon are not swimming in it anymore," Fisch said. "And in some of the areas in the lake where people drop anchor and swim, most of them are on floats."
Then again, people in Lake Hopatcong, who have seen both droughts and floods over the years, are apparently treating the anaconda phenomenon as an opportunity.
"They're making tee shirts up with "Snake Hopatcong" on it," Fisch said. "And the bars are coming out with green drinks for the green anaconda."
Whatever lives in Lake Hopatcong, local boater Doug Cobb seemed to take a live-and-let-live attitude to the creature that now dominates Lake Hopatcong's collective psyche.
"They should put it somewhere where it can exist," said Cobb, 37, of Stanhope, a furniture delivery man. "It hasn't killed anyone as far as I know. But some people are sacred. They're going to go in their boats, but they're not going to go in the water as much. But you can go to the bar and go get a Snake-in-the-Lake shot."
Being underage, it might be harder for Paul Brodersen, 20, who works as a dock attendant at the Main Lake Market in Lake Hopatcong, just across from the reported Halsey Island green anaconda lair, to go get a shot himself. But it just doesn't matter. He has a mission to accomplish in defiance of a reported roving reptile.
"Sharks live in the Atlantic Ocean, but that doesn't stop me from going in the lake," said Brodersen, of Sparta. "I've got a summer job on the lake. Why wouldn't I jump in?"