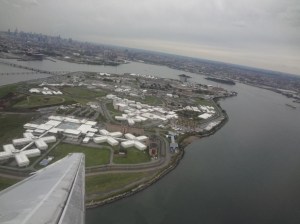 Three corrections officers at Rikers Island have almost earned themselves a new uniform–an orange jumpsuit.
A day after Hurricane Sandy, when tensions on the island prison continued to soar, a group of guards allegedly beat an inmate unconscious. According to reports, Department of Corrections Captain Moises Simancas, along with officers Tyrone Wint and April Jackson, handcuffed and repeatedly bashed inmate Gabino Genoa. On Wednesday, the three officers were arrested for first-degree assault, carrying a bail of $50,000 and a maximum of 15 years in prison each, The New York Times reported.
The investigation comes after New York City authorities started cracking down on the city's prisons and investigating guard-on-inmate violence. Since the sweep, a slew of other corrections officers have been arrested for violent misbehavior, corruption and drug smuggling.
This serves as a friendly reminder: NEVER book a room in the big house.