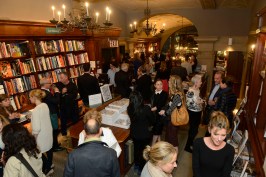 Breaking the glass ceiling? Good. Demolishing Rizzoli Bookstore's neoclassical plaster ceiling dating back to 1919? Bad.
This past April one of New York's earliest independent bookstores was closed down and set for demolition to make room for a new luxury high rise apartment complex. Despite the Save Rizzoli committee's attempts to earn the building historic landmark status, over the last months the bookstore was gutted, with only its delicately crafted ceiling still intact. Until now, that is.
"The grotesques of the window frame reappear in unabashed glory in the spectacular vaulted ceiling inside. An explosion of birds, flowers, shells, chimeras, putti riding hippocamps, and maidens dancing to the accompaniment of lyres and harps greet the visitor," details the Save Rizzoli website.
The committee had a detailed and efficient plan to have the ceiling professionally removed without postponing the demolition schedule, which the building's owner, Vornado Realty Trust, was in favor of. Later, however, they backed out and after a second application to the Landmarks Preservation Committee it looks like the ceiling will go.
The Save Rizzoli committee concluded, "We deplore the demolition of landmark-worthy buildings and those who seek to profit from their destruction."