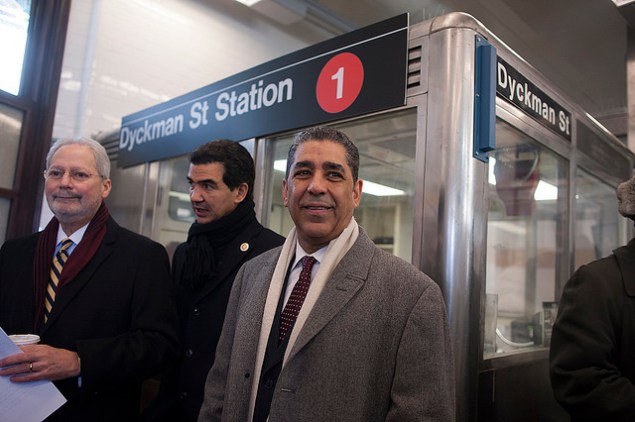 Former Councilman Robert Jackson beat out State Senator Adriano Espaillat in fund-raising by $22,000 in the first filing period–but spent more than five times as much as the incumbent, leaving the two neck-and-neck in cash on hand with two months until Election Day.
Mr. Jackson, a Manhattan lawmaker for 12 years running for the upper Manhattan-based district, reported raking in more than $50,000 between April and July for his effort to unseat the two-term state senator and two-time failed congressional candidate–but burned through more than $32,000. Mr. Espaillat's camp started off $2,700 in the red and raised roughly $28,000, but spent just $5,000–leaving him with $19,500 cash on hand, just inches ahead of Mr. Jackson's $18,000.
Both sides declared their filings to be signs of strength.
"More than 200 people have contributed, and more than 8,000 people have signed our petition because they want a full-time Senator who will put the people's interest first," said Richard Fife, a spokesman for Mr. Jackson. "We have invested in the infrastructure needed to win, and know that no other candidate will outwork Robert Jackson or can compete with our people-powered campaign."
Mr. Jackson's reports show that his team spent $7,500 on rent, more than $11,000 for consulting fees and almost $5,000 on campaign literature. A source close to the campaign said that the camp decided to pay for all signs and palm cards in advance in order to conserve funds.
Mr. Espaillat's campaign pointed out that it collected most of its money in the past several weeks, since the senator lost in his bid to unseat Congressman Charlie Rangel.
"The Espaillat campaign is proud to have more resources on hand than our opponents, despite beginning fundraising less than a month ago," said spokesman Jonathan Davis.
Mr. Espaillat's filing shows that he has yet to pay rent for the use of the Northern Manhattan Democrats for Change office his campaign is using as its headquarters, and that he owes $3,500 to consulting group Bedford Grove for holding a fund-raiser for him earlier this month. Additionally, out of the less than $6,000 his campaign has spent, $1,000 of it was a donation to his unsuccessful congressional effort, made on June 23–the eve of the primary election.
Interestingly, the records show neither Mr. Davis nor Mr. Fife were paid for their services during the filing period. Mr. Davis said he was a volunteer, while Mr. Fife said he will be paid in the future.