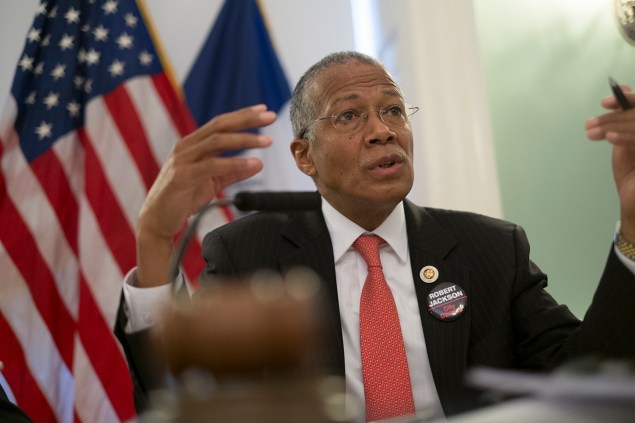 Former Manhattan Councilman Robert Jackson—a challenger to State Senator Adriano Espaillat—blasted Gov. Andrew Cuomo and Mayor Bill de Blasio last night on education issues, while rooting for Mr. Cuomo's longshot primary opponent Zephyr Teachout.
The former councilman cheered loudly for Ms. Teachout as she criticized the governor in remarks at the second annual Iftar dinner of the Muslim Democratic Club of New York, of which Mr. Jackson is a founding member. Mr. Jackson then himself blasted Mr. Cuomo for including protections for charter schools in the state budget and for failing to pass public financing of elections.
"I think that the governor jammed us and the state of New York on education, and he jammed Bill de Blasio," the State Senate hopeful said. "We've been jammed by the governor on education, and he has jammed us on campaign finance reform."
Mr. Jackson then went on to attack Mr. de Blasio and his Department of Education for allowing a branch of the controversial Success Academy charter school chain to open in Upper Manhattan's Mother Cabrini High School—claiming that the administration had failed to consult the local Community Education Council about the plan.
"Bill de Blasio jammed District 6," Mr. Jackson said. "They didn't even have the courtesy to let the CEC know or any of the leaders in District 6."
Despite the cheering, Mr. Jackson declined to say if he was endorsing Ms. Teachout—who most see as having little chance of triumphing over Mr. Cuomo. But said he had signed one of her petitions to get on the ballot, and called on the governor to argue the issues with the Fordham professor.
"I support her right to challenge. If anyone truly believes in democracy, she should be allowed to run," said Mr. Jackson. "I want to see a debate, I want to see the governor debate her."
The governor's and mayor's offices did not immediately respond to requests for comment.