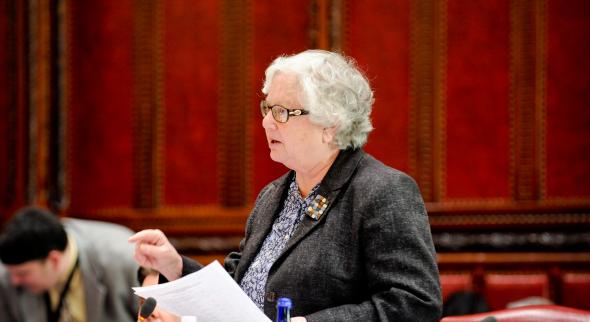 Queens State Senator Toby Stavisky has raised less money than her rival, S.J. Jung, but the veteran lawmaker's camp is convinced her haul shows the momentum still lies with her.
Ms. Stavisky, who represents a majority Asian district in central and eastern Queens, is up against a well-funded Asian-American opponent in Mr. Jung. The immigrant rights activist raised more than $170,000 and has just under $110,000 for his fight against Ms. Stavisky, according to new campaign filings. The Queens lawmaker does have $125,000 cash on hand, even though she raised $54,000 less than Mr. Jung.
Mr. Jung padded that fund-raising lead with a $50,000 personal contribution.
"I chose to invest some of my own money in my campaign to demonstrate my commitment to winning this race and representing the people of Flushing, Forest Hills, Rego Park, Oakland Gardens, Fresh Meadows, Pomonok, Electchester, Elmhurst and Woodside," Mr. Jung said in a statement. "As the old saying goes, 'You cannot expect others to invest in you if you do not invest in yourself.'"
Ms. Stavisky, who fended off a furious self-financed challenge from attorney John Messer in 2012, dismissed Mr. Jung's haul.
"In each of the last several cycles, Sen. Stavisky has consistently beaten high-spending opponents by wide margins," said Joe Reubens, a spokesman for Ms. Stavisky. "While S.J. Jung has already dropped some of his personal fortune into the race, we are pleased that we continue to have more cash on hand as we approach the campaign's home stretch and are confident that she will once again be successful."
Ms. Stavisky is once again running with the unified support of organized labor and the Queens Democratic machine. In past races, opponents attacked her for being out of touch with the district's large Asian constituency, though the area's Asian-American elected officials are firmly in Ms. Stavisky's corner.
The race so far appears to lack the bitter tenor of the 2012 contest, when Mr. Messer assailed Ms. Stavisky for not hiring Asian-American staffers and having deep ties to the Parkside Group, the consulting and lobbying firm that her son founded. Mr. Jung, as a Korean-American, is in better position to capture votes from the district's Asian electorate, observers say, but will have an uphill battle to knock off the incumbent.
Mr. Jung has several hurdles to overcome. The district's older white population, more likely to vote in a Democratic primary, favors Ms. Stavisky. And the Asian electorate is not unified: many of Mr. Jung's donors are of Korean descent and Chinese voters in the district haven't always celebrated the rise of Korean political power.
Still, anti-Stavisky forces in the district see Mr. Jung as their best chance yet to defeat the longtime incumbent.
"This campaign is about so much more than financial support. It is about restoring the public's faith in state government, making it easier for working- and middle-class families to make ends meet, and fighting for a fairer budget that addresses the needs of immigrants and senior citizens," Mr. Jung said. "That's why I'm running for this seat."