Slated for completion in 2016, Time Equities Inc.'s 50 West condo development at—you guessed it—50 West Street in the Financial District, has already managed to unload 30 percent of its 191 homes, averaging more than $2,400 per square foot, and topping out at $5,000 per for half-floor penthouse units. (Early reports suggested that average prices would be closer to $1,900 a square foot; 50 West's most modest—one-bedroom—apartments begin at $1.615 million while a three-bedroom penthouse asks $18.63 million.) And this even as the building only yesterday launched open-market sales, having offered its inaugural properties for 30 days exclusively to a buyer waiting list.
"The New Downtown has arrived," Time Equities chairman Francis Greenburger said in a release. "Lower Manhattan is quickly becoming the City's hottest neighborhood."
Eh, maybe not. But to be sure, it is becoming a neighborhood hotter than it was before, as 50 West's ultra-luxurious profile and (so far) expectations-beating price points amply demonstrate.
Outfitted with a Helmut Jahn-designed curved-glass facade composed of floor-to-ceiling windows and interiors by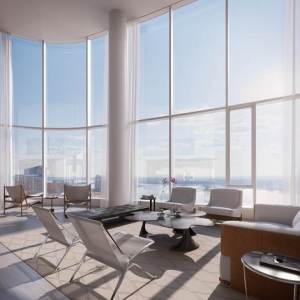 Thomas Juul-Hansen—who has himself purchased a place on-site—the building will offer a class of product that has been largely absent so far from Manhattan's southernmost reaches. Residences contain Miele and Sub-Zero appliances, marble and custom walnut galore. Ceilings will range from 10 to 22 feet high, in double-height living rooms, offering open, airy interiors to complement giant, dreamy views New York waterways, the Statue of Liberty, and what the developer somewhat cultishly calls "the New Downtown." (We are given to understand that said region includes the World Trade Center, Brookfield Place, Fulton Street and the re-vamped Sea Port.)
To 50 West's considerable private pleasures, Time Equities will add extravagantly souped-up shared amenity spaces in the form of "'Water Club,' the fitness floor, the entertainment floor and the Observatory at 50 West – a landscaped roof lounge rising 730 feet." None too shabby, all in all, especially in the context of FiDi's heretofore staid, affordable and practical reputation.
Apartments already off the market were, of course, purchased sight-unseen, and Time Equities has employed an international advertising campaign, and a touch-screen-laden sales office to help move merchandise. The building's lower Manhattan locale and glassy modern character ought to make it attractive to (way) out of town buyers looking to rent in their absence, or simply for a spread to leave unfilled for much of the year—you know, for peace of mind. But that's hardly any concern. FiDi, after all, is already a ghost town on the weekends anyway.