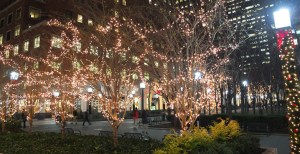 If you happen upon a slightly strange playground exiting the subway at Jay Street-MetroTech, don't hold back. Run on over!
The playground, as it happens, is a series of works by Sam Falls, "Light Over Time," which will add a welcome bit of pizazz to the drab Downtown Brooklyn vibe of MetroTech Commons. The show, which is presented by Public Art Fund, will feature a bench that changes colors when you sit down, a seesaw that's activated by buckets of rainwater, and wind chimes that visitors are encouraged to strum and hit.
The exhibition opens July 30. Come out and play!