When hundreds of New Yorkers piled into Brookfield Place Plaza in Battery Park City on Wednesday night, jumping at the chance to see Sharon Jones and the Dap-Kings play for free at the Lowdown Hudson Blues Festival, few expected their gratis tickets would include an opening band that dazzled.
But an hour before Ms. Jones stepped on stage, Lake Street Dive entranced the outdoor plaza with a suave mix of slow, jazzy ballads and '70s rock 'n' roll inspired numbers, complete with Bowie-esque guitar solos. With nothing more than upright bass, drums, Rachael Price's smoky voice and Mike "McDuck" Olson's trumpet and guitar, the band didn't need electronic histrionics to stop passersby in their tracks. Just well-oiled, classic rock minimalism.
It's a time-tested formula that's positioned Lake Street Dive on the verge of stardom. The band has performed on The Colbert Report, Late Night with David Letterman and The Ellen DeGeneres Show, all within the last year, released a record, Bad Self Portraits, in February, and are on a national tour until November. The band has taken off rapidly, but the road to success hasn't been a short one.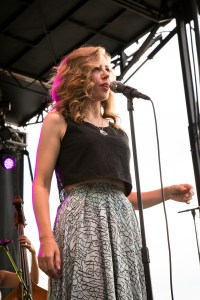 Ten years ago, Lake Street Drive met as freshmen in a jazz program at Boston's New England Conservatory. It took some time to find their sound. Mr. Olson, the band's founder, originally wanted to pioneer a genre of music he called "free country"—country music with less structure and more improvisation, like jazz. It didn't quite work, but that passion for innovation can be heard in LSD's music; the band's songs don't fit neatly into any one genre.
"A lot of it came together when we realized we grew up listening to the same music," lead singer Rachael Price told the Observer by phone, a day before the festival. Soon after forming, LSD went on their first tour, still trying to find their own sound. While on the road, the four took turns playing DJ and discovered their shared obsessions for Paul Simon's Graceland, The Beatles, Motown and soul. "Once we realized that we all liked this '60s and '70s pop and rock and roll, everybody started writing songs in that genre and the sound developed from there," said Ms. Price in her warm, slightly Southern lilt that matches her charming onstage presence.
Ms. Price shimmied her shoulders and leaned back as she cooed a soulful vibrato. She teased the audience with impish eyebrow lifts as she sang "Bobby Tanqueray," a song about a girl bewitched by a smooth guy ("I met him once way after midnight/he lit a smoke and I just stared").
Behind her, Bridget Kearney plucked at her bass strings, her mint green fingernails shimmering. Her eyes met drummer Mike Calabrese's and they threw in an improvised harmony to match Ms. Price's clear alto. Mr. Olson, whose lips usually maintained a firm line of concentration, smiled.
Other songs were more reflective. At one point, Ms. Price belted a poignant high note and then quickly drew it back, saying more with her melancholy silence. It was a choice she might not have made a few months ago, when the band was lesser known and more worried about getting the audience's attention. "We're walking out to crowds that are listening from the start, so we can take a lot more risks. We can be more subtle," said Ms. Price. In the past, LSD was concerned about playing their slow songs, which are less flashy, but on Wednesday the band didn't hesitate to relish in even their most placid numbers.
"Now we can really bring the set down and make it more intimate; we can be more sparse," said Ms. Price. "Essentially, we can say more by doing less."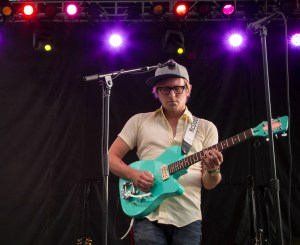 The band's performance attitude hasn't always been so lax; LSD's stylistic focus differed just six months ago, Ms. Price said. And with their penchant for improvisation, their sound will likely evolve more in another six months. Lake Street Drive is constantly tinkering with its songs, adding in whistling, new guitar riffs and humorous details, like grunts—personal, human touches that should help keep Lake Street Dive around after other one-note ensembles have disappeared. And so will the broad audience that their distinct sound attracts. Looking around the festival, middle-aged men and Ray-Ban wearing teenagers alike mouthed the band's lyrics.