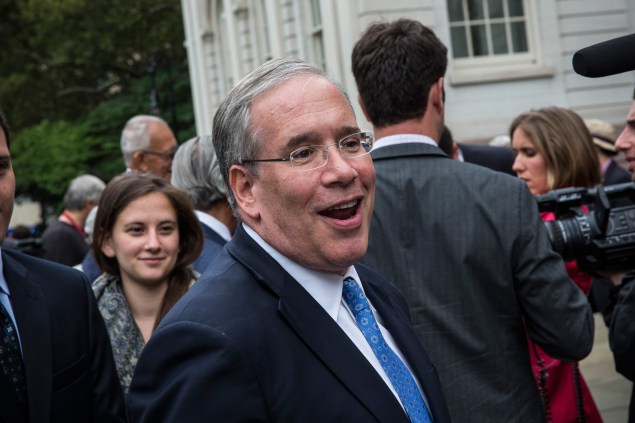 Comptroller Scott Stringer today blasted the New York City Housing Authority for failing to comply with city and federal regulations requiring them to only contract companies that hire NYCHA residents or other low-income New Yorkers.
Auditing just 29 of the 224 contracts the agency issued between 2010 and 2012, Mr. Stringer's office discovered that companies misrepresented their hiring of NYCHA tenants and that the city failed to demand required the paperwork from the employers or do proper inspections and check-ups. The cost to the city, according to the comptroller, was $475,000–and the lost wages to public housing residents topped $184,000.
"Because of mismanagement and lax oversight, NYCHA has denied its own residents wages and training that they deserve," Mr. Stringer said at a press conference at the R.V. Ingersoll Houses in Brooklyn. Mr. Stringer, a Democrat, noted that federal law requires the agency to ensure that contractors hire 30 percent of their workforce from the NYCHA and low-income population on all jobs costing more than $100,000, and that city statutes obligate contractors devote 15 percent of their labor costs to the same pool.
Worse, according to Mr. Stringer, was that the agency, now under the leadership of Mr. de Blasio's appointee Shola Olatoye, refused to admit that it had been derelict in its duties when faced with the comptroller's findings–even though the audit covered contracts from the Bloomberg Administration. Mr. Stringer angrily lashed out at the NYCHA for its denial.
"We went to NYCHA and said 'these contractors aren't doing what they're supposed to," said Mr. Stringer, surrounded by public housing tenants. "They told us 'we're doing just fine, we don't need to go after these contractors.' This is not a good start, and the residents are here to say 'enough is enough.'"
Mr. Stringer refused to single out the mayor or Ms. Olatoye for criticism, but said that he held his press event this morning to spur change.
"When you uncover something like this, you see something like this, and the best NYCHA can say is 'we're doing nothing wrong'–that's why we're today," Mr. Stringer said, adding that he had had a productive relationship with Mr. de Blasio so far. "One of the things I've enjoyed with this administration, is when you raise an issue, things happen."
The pol went on to predict that NYCHA would cooperate following the revelation of his audit's results.
"I think after today I expect a change in tone," Mr. Stringer said. "The phone will ring and we'll sit at the table."
NYCHA claimed in a statement that its contractors had hired plenty of residents–1,600 of them–in 2013.
"While we appreciate the City Comptroller's effort to look into this important policy, the report fails to show the full picture," the agency said.
The comptroller said a much larger and more comprehensive audit of the agency is underway.
Updated to include comment from NYCHA.