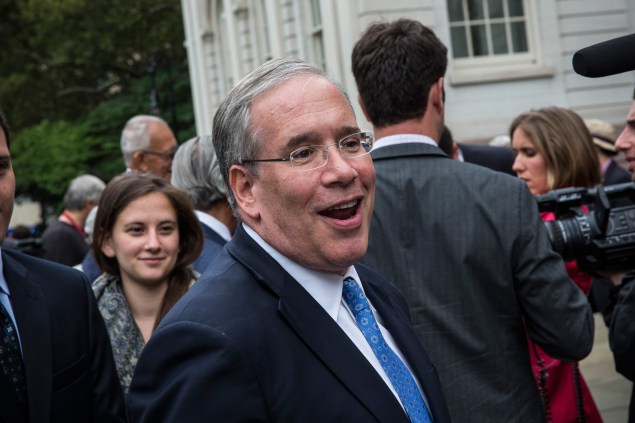 Comptroller Scott Stringer announced today that an audit of contracts the Department of Homeless Services handed out in the wake of Hurricane Sandy discovered that the agency had doled out $19.9 million in funds with little or no oversight.
Mr. Stringer said his investigation into the DHS' finances found that the agency had given a virtual blank check to the 20 private contractors charged with assisting storm-slammed New Yorkers—paying them for work not included or beyond the term of their contracts and not requiring hard documentation of expenditures or performing inspections. In the eight contracts his office reviewed, Mr. Stringer said he found at least $30,000 had been wasted.
"The mismanagement of contracts by the Department of Homeless Services after Superstorm Sandy made the city vulnerable to waste, fraud and abuse," Mr. Stringer said at a press conference in Park Slope, Brooklyn on the same day Mayor Bill de Blasio made his own Sandy-related announcement.
The contracts in question ranged from helping provide shelter to displaced residents to assistance signing up for public benefits to home repair to medical attention—though the agency allegedly failed to determine if the services were ever rendered. Mr. Stringer said the agency blamed the lack of attention paid on the state of emergency—an answer the comptroller called unacceptable.
"Taxpayers deserve to know that the city isn't going to make the same mistake twice when the next storm hits," said Mr. Stringer.
The comptroller submitted a list of recommendations to the department, calling for it to lay out explicit rules for monitoring contractors, requiring logs and records from companies receiving public funds, verifying that services are received before certifying payments, and obligating contractors to perform satisfaction surveys with aid recipients. Mr. Stringer said that the agency had agreed to most of the suggestions, though they had yet to lay out the precise procedures for authenticating contractors' claims.
The DHS confirmed that it was taking the comptroller's advice under review, noting that the adjustments he suggested were relatively slight.
"DHS welcomes the Comptroller's audit and looks forward to reviewing his recommendations further, as we believe that there is always room for improvement. Based on our initial review, we are encouraged to see that their findings are relatively minor, when compared to the herculean response that DHS executed in the aftermath of Hurricane Sandy," said spokesman Christopher Miller. "The DHS leadership is committed to improving our services at all levels, including our response to emergencies."
At a press conference an hour later in Canarsie, Brooklyn, Mr. de Blasio said he appreciated Mr. Stringer's audit and claimed the city had already been moving on at least some of his recommendations.
"I think it's clear that a number of mistakes were made after Sandy, also good things were done after Sandy. It's not one or another," Mr. de Blasio said. "Clearly, we appreciate the comptroller's report. We think there are important ideas in it, a number of which actually the city had already been starting to act on independently so we are and have been already making changes at DHS."
Ross Barkan contributed reporting.