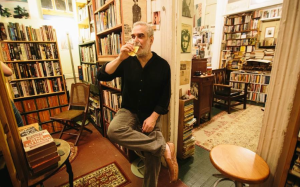 Upper East Side bookstore, Brazenhead Books, may soon be heading for its dénouement.
Michael Seidenberg, who has been operating his "secret" secondhand bookstore out of his former apartment since 2008, will be evicted on October 31st, according to DNA info.
After being featured in the New Yorker in 2008, and even a mini documentary for Etsy in 2011, the illegal apartment-store is only being ousted now.
Mr. Seidenberg closed the original Brooklyn-based Brazenhead Books in the late 90s due to rising rent, and tried his hand at selling books at fairs or on the street afterwards. However, he missed having his own bookshop, and in 2008 relocated to the Upper East Side.
To keep his shop covert and away from prying eyes, he began seeing prospective customers by appointment only, and hosted Saturday salons for those uncomfortable with individual appointments.
"It is a second hand bookshop in every way, but it's not on the street," he said in the documentary, There's No Place Like Here: Brazenhead Books. "It's not legal so that's why it has to be hidden."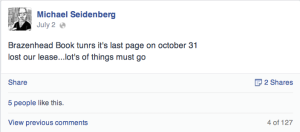 Since Mr. Seidenberg announced the eviction on his Facebook page on Thursday, Brazenhead fans have flooded his page with sympathy and nostalgia.
"Brazenhead has been through so many changes. Every time it seems like the end of times, you keep going and stay open and something even better comes along," one Brazenheader wrote.
"I'll just deal with it when I have to deal with it," Mr. Seidenberg told DNA Info about potential publicity ramifications following the Etsy documentary.