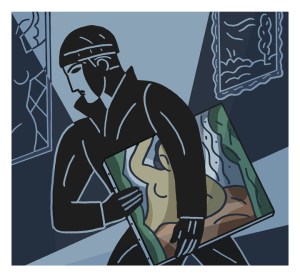 When expensive art is stolen, the question always arises: what can anyone actually do with it? Fence it for quick cash? Use it in a trade with prosecutors to reduce charges for some other crime? Perhaps. But some reports of recovered artworks, previously reported as stolen or missing, offer a different scenario. It is possible that some missing works are hidden right under the noses of investigators, in storage sites.
For instance, an 1889 van Gogh, Cypress, Sky and Country, was found earlier this year in a bank vault in Madrid, discovered only when tax authorities raided safe deposit boxes belonging to 551 individuals who are accused of owing back taxes. And in 2012, a 1960s Lichtenstein painting called Electric Cord that its owner, the late dealer Leo Castelli, sent out for a cleaning in 1970, was found in a Manhattan storage warehouse. The painting (valued at $4 million) had disappeared, and Castelli's widow, Barbara Bertozzi Castelli, learned of its reemergence only when the person claiming to own it tried to sell it. Shortly after, Homeland Security agents raided another art storage site in Manhattan, this one owned by an Indian antiquities dealer, where they found more than $20 million in religious artifacts looted from Indian temples. That dealer, Subash Chandra Kapoor, was arrested and extradited to India to face smuggling charges. As with the Lichtenstein, it was the prospective sale of these items that led investigators to the fine art facility.
The past decade has seen significant growth in the art storage industry, but those recent discoveries of missing artworks raise questions about what is being stored. "I don't check on what people are storing, that's not my business," said Robert Crozier, president of Crozier Fine Art, a storage company with locations in Manhattan, Long Island, Newark, N.J., and Philadelphia. Although he said that his company does not consult lists maintained by the FBI, Interpol or Art Loss Register of missing and stolen objects, Crozier mentioned a few instances over the years when a court order required him to "turn over our records." However, he added that "we do extensive due diligence on our clients. Somebody can't walk off the street and open an account to store their property in our warehouses. We have rules and regulations as to what can and cannot be stored, which we rigorously police."
Crozier's approach is standard for the industry. "I sort of know, but not really," said Chris Wise, director of UOVO Fine Art Storage, a storage facility in Queens, when asked about his knowledge of work he safeguards. "A lot of people don't share with us what they are storing. They send over a box from Europe and tell us to put it with their other boxes. They don't want us to open their boxes to see what's there, and I'm not in the provenance-checking business. If we had to check if pieces were stolen or if they were taxed at the right rate, storage would be a lot more expensive for our clients. So, I don't really know what we have, and I don't really want to have that knowledge."
Thomas Ryan, the president of WelPak Corporation, a moving and storage company in Queens, said that "the greatest percentage of objects here are known to us," but that checking their status is "beyond our requirements."
The international auction house Christie's, which offers art storage in London and Brooklyn, also does not investigate its holdings. "We offer absolute privacy and discretion to our clients and generally do not undertake detailed inventory processing unless we are specifically requested to do so by a client," its promotional brochure states.
If the owners of these facilities themselves claim that they don't know exact details about what is in their buildings, they also do "not want anyone else to know," said Los Angeles Police Department detective Don Hrycyk, who is the department's investigator of art frauds and thefts. That may be wise in terms of security—keeping information hidden from would-be thieves—but it also may impede police investigations of art theft and smuggling. Art Storage facility owners "are not very cooperative when I come asking questions," Mr. Hrycyk said. "They drag out their lawyers."
The owners of fine art storage sites tend to be less worried about whether or not their clients have stolen property than about potential thefts of stored property by their employees. Some of the new entries in the fine art storage field are "a lot less secure than they should be," Mr. Hrycyk claimed, noting a handful of investigations of art thefts over the past several years at newer facilities.
It was from WelPak Corporation, that a 1939 Norman Rockwell painting, Sport, was stolen last year and just discovered this past March in Ohio. Mr. Ryan declined to state whether or not the theft of the painting was an inside job. Discretion means saying little and knowing less.
"Employees—security guards, often—steal from storage," said Robert Wittman, the former head of the FBI's art theft division and now a private art security and recovery consultant. He noted one case in which he was called, where  two employees of the St. Louis-based Fine Arts Express storage company conspired to steal more than 20 works from the holdings of a single collector, in 2004.
Fine art storage facilities, of course, take a variety of measures to protect stored objects from thieves outside and in, including 24-hour guards, electronic surveillance, electronic recordkeeping, special magnetic cards to permit entry to specific rooms and a system to restrict who may access those cards.
A more passive form of security is the fact that most fine art storage facilities are located in "lower-income industrial areas, which no one would associate with high-end art," Mr. Hrycyk said. Those areas of town are chosen in part to help keep the cost of storage affordable, and there is an element of "no one is paying attention" to what is going on in some factory-looking building, Mr. Wise said.
Not every work of art that is missing has been stolen, according to Dean Golemis, a private investigator who tracked down Rockwell's Sport. Many works go missing as a result of human error; they are what he called "mis-shipped." He explained, "A painting is taken off display at a gallery or museum and put in storage, but it is often sent with other paintings of the same size in a custom-built crate designed to hold several works. One of the works in the crate is left off the bill of loading, and no one is going to know about it until someone calls for the other paintings in the crate." Ah, so there you are!