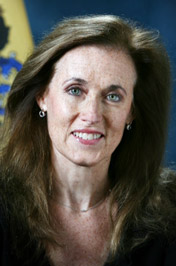 TRENTON – Searching hard for the smoking gun in their investigation into a traffic snarl that had Fort Lee gridlocked for four days, the Select Committee of Investigations zeroed in on a mysterious text message their latest witness, Chris Christie's incoming Chief of Staff Regina Egea, sent to the governor in the midst of the controversy last year.
Following a Dec. 9 hearing involving Port Authority Executive Director Patrick Foye and former Deputy Executive Director Bill Baroni, Egea said she texted Christie her thoughts about how professional the two — who she said often clashed at the agency – had acted.
But when asked what happened to the text, Egea said she had deleted it.
"I was inconsistent in what texts I retained and what texts I didn't," said Egea, who testified in front of committee today.
Her answer confounded some of the members of the committee, most notably state Sen. Loretta Weinberg, who asked if Egea was "in the habit" of texting the governor.
Egea said no, though she was in monthly corresondence with Christie.
"You texted the governor about .. the veracity.. of this sworn testimony, and you didn't think it was necessary to retain a text that was sent to the governor about it?," Weinberg asked.
Egea explained she's often in touch with her subordinates via text messages but deleted this one because "it was not at all substantive."
"I'm happy to disclose everything that was in it," Egea said.
Later on, Assemblyman Paul Moriarty (D-4) brought up the message again, asking Egea if she thought deleting the text might have broken any ethics laws. Egea answered no, that the governor's office did not require employees to retain such material — though she said that policy has changed.
Moriarty asked if the committee could get a copy of the new policy, and also recommended the committee consider extending Egea's subpeona to include text messages and, if possible, data recovery.
Earlier in her testimony, Egea, the front office's former Director of Authorities Unit who was in communication with employees at the Port Authority during the lane closings last year, attributed the events surrounding those closings to a "mishandling of communication" on the part of the agency.