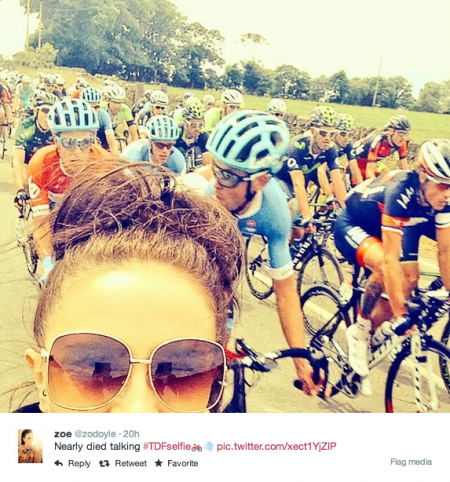 The greatest unforeseen danger to this year's Tour de France riders isn't a bunch of sheep walking around with cameras strapped to their backs; it's spectators taking selfies.
Tour de France fans tend to line the edges of the race routes in droves, frequently with no gates separating spectators from riders. This year, selfie-taking spectators have been turning their backs to the road, and not always realizing when the cyclists have been approaching, the Guardian reports.
"The worst thing is when people have got their backs to the peloton taking selfies," British cyclist Geraint Thomas is quoted as saying. "I had a few of those and they don't see us coming and are stood in the road and it is very dodgy… If you are on the front you can see it, but if you are a couple of people back you suddenly see them and you can hit them."
Another cyclist, Lithuania's Ramunas Navardauskas, was reportedly swiping at spectators who got in his way.
Mr. Thomas suggested spectators "stand on a wall" if they want to take selfies.
Selfies at the Tour de France have apparently become so rampant, they've even accrued their very own hashtag, Betabeat discovered after an intense social media investigation. It's easy to spot the prime selfie-taking offenders by searching #tdfselfie.
http://instagram.com/p/qHVebWgIur/?modal=true
News organizations don't seem to be helping the matter:
Though some people seem to get the picture: