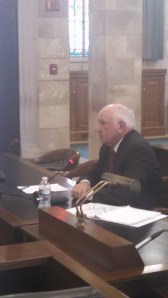 TRENTON – John Degnan, Gov. Chris Christie's nominee to be the Port Authority's new chairman, was evasive at a confirmation hearing today when pressed by state Sen. Nicholas Scutari (D-22) about whether he thought last year's lane closings at the George Washington Bridge were preconceived or politically motivated.
"I know no more than what I've read in the papers," Degnan said after Scutari asked what his understanding was of the series of events that lead up to the lane closings. "I don't know enough to make judgements."
Degnan, a Democrat who served as New Jersey's youngest-ever state attorney general under Democratic Gov. Brendan Byrne, was grilled on a number of issues relating to the embattled agency in front of the Senate Judiciary Committee this afternoon.
"I'm not suggesting you make final judgements, I'm asking you to tell me what you think happened," Scutari, the committee's chairman, countered. "Pretend I'm having a conversation with you."
Degnan said he wasn't willing to commit to an opinion until he learns more about the circumstances surrounding the closing, which he hopes the ongoing investigation by the Legislature will allow him to do.
"What I will say is if the lanes were closed as an act of political retribution or for any reason that was not a part of the traffic study … then that is an outrageous misuse of laws," Degnan argued. "If that happened, it needs to change, and steps need to be taken to make sure it doesn't happen again."
Degnan said his first priority as chairman would be to create a "culture of ethics and transparency" in the wake of ongoing scandals that have rocked the agency.
Degnan was named to replace former Port Authority chairman David Samson, who resigned from the position earlier this year.
"Was there a traffic study?" Scutari continued.
"I don't know," Degnan repeated. "I've seen press reports — but I'm just not going to make judgments."