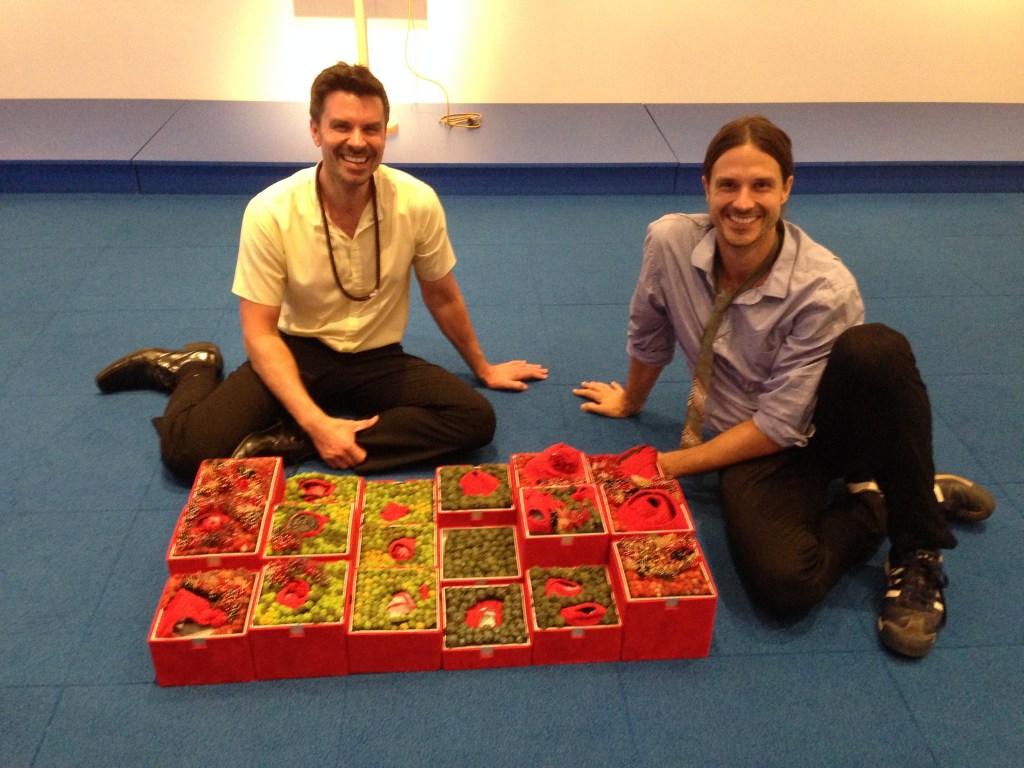 On Friday night, Steven and William Ladd performed their piece Volcano at the Museum of Arts and Design, and if you came just five minutes late you would have missed it. Forty people packed into a fifth-floor gallery to watch the artists dismantle their work, a tower of 24 red suede boxes stacked in two columns. They lifted the lids one by one to reveal tiny landscapes crafted from cloth and beads. The audience oohed. They laid the tops on the floor, sat the bottoms in their respective tops and lined up all the boxes into one rectangular landscape. In two minutes, the tower unfolded into a terrain of fabric volcanoes and beaded vegetation.
The Ladd brothers are among the 100 contributors in MAD's biennial "NYC Makers," a show dedicated, just as it sounds, to artists across the five boroughs. The exhibition, which opened at the beginning of July and runs until Oct. 12, fills every crevice of the museum. And still, the Ladd brothers' Volcano stood out.
In the center of each box were bold twists of red suede, shaped like the mouths of volcanoes. Sewn around them were hundreds of little balls made from green thread. Chains of red and gold beads stood upright in some boxes, bunched together like the fingers of sea anemone. They sparkled, giving the illusion of gushing lava. Bronze spiders with four legs balanced on one of these bead bundles. Any of the containers could have stood alone.
When Steven, 36, and William, 35, began Volcano in 2006, they had no intention of making a landscape. The boxes were meant to house handcrafted accessories. For 13 years, Steven, who designs clothing, and William, who does beadwork, have worked together—crafting everything from beaded neckties to handbags that took 100 hours to make on average.
After a few years, they talked to fellow artists about how to make boxes to hold their creations. "No one really got it," said Steven. "They were like, 'Oh, it should just be this simple box' and we were like, 'No, this should be this amazing container.'" One day, they looked at the stacks of jewelry boxes on the shelves of their studio. "Wow, that's a great-looking stack," Steven recalled thinking. "Ooh, it's a tower!" He and William were kneeling in front of the opened Volcano, post-performance, as they told me about the work. William's hair was pulled back in a ponytail and Steven's was close-cropped, but anyone could tell they were brothers.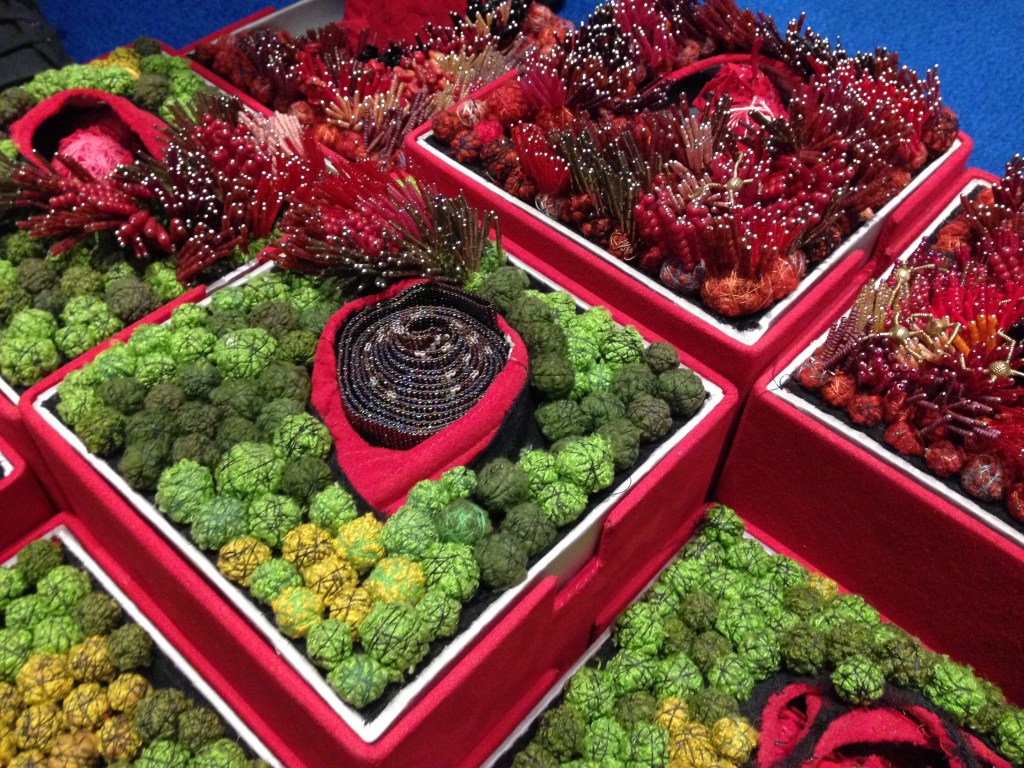 They finished each other's sentences. They spoke with the same charming, upbeat cadence. They both wore black pants and button-down shirts (though Steven made his own yellow blouse while William's was blue and from J. Crew). Each of them also modeled a handmade accessory. A brown beaded necklace with a diamond-mesh pattern dangled from Steven's neck, and William exhibited one of the beaded neckties.
They grew up in St. Louis in a tight-knit family of six. Though they didn't have much exposure to the visual arts, they both took an early interest in crafting. Steven had always wanted to sew, and William became fascinated with beading at 15, when one of his friends introduced him to it. Their work is often inspired by their childhood memories, hence the warmth and whimsy in all their pieces. But their love isn't just reserved for their relatives and the art. Both brothers would give hugs, unprompted, to anyone who approached them after the performance to ask questions.
Volcano was the first set of boxes to evolve into a landscape. At the time that they were working on it, both brothers had recently become exercise addicts – William was training for a marathon and Steven was doing heavy weight training. The ferocious exercise influenced the work, William explained. When you looked at it, you could see what he meant. The red throbbed like blood. The green symbolized growth of the muscles. The whole work pulsed. "It's like the lactic acid that's runs through your muscles when you're bodybuilding," said William.
When the Ladds began showing the boxes to clients and curators, they would put them in the tower formation and unveil them. They realized the dramatic effect and so they began doing performances like the one on Friday. Steven would take a lid off and set it on the ground and William would place the box bottom in the lid-pedestal. They moved in a circle. Their separate steps became one fluid motion, broken only when one leaned down to place a lid or bottom.
What does the performance feel like for the Ladds? "It's just a," Steven started saying, "rhythm," they finished together.