Smart devices keep things exact, check up on humans and, in many ways, eradicate human error all together. So how does technology come into play in one of the few places where #tech sits on the back burner to creativity, tradition and deliciousness?
Upon realizing that many of us still cook like it's 1995, Betabeat began wondering about the current and future use of technology in the kitchen, and more specifically, what professional chefs who have devoted their lives to the delectable art think of it all.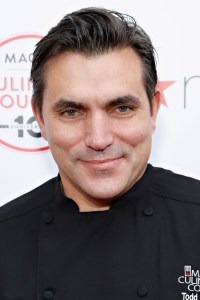 To find out, we talked to famed NYC chefs, some of whom have extensive experience with smart kitchen devices and others who choose to stay away. If we can conclude anything about the professional chef popular opinion on kitchen tech, it's that there isn't one.
Todd English, celebrity chef at Todd English Food Hall at The Plaza Hotel, is a firm supporter of technology in the kitchen and a regular buff when it comes to smart cooking devices. He even goes to the Consumer Electronics Show in Las Vegas each year to see what's new.
"Do I want to go out on an old fashioned grill and roast a chicken? Yes, but if i can do something first that will make it better and help me understand the nutritional aspect, then yes [I'll use a smart device]," Mr. English told Betabeat over the phone.
He feels they provide valuable nutrition information and quickly help chefs make decisions about which tools and ingredients to use.
Most recently, Mr. English played around with iGrill, a thermometer that syncs with your phone and tells you exactly when your steak is at the perfect 140 degrees. At home, he has a smart refrigerator that gives you recipes you can make with what you have inside.
"The liberation of cooking is if you're confident in the kitchen," he said. "A lot of people are intimidated. They don't know what sauteing or brazing is, so I think the technology is giving people the confidence to wing it and will enhance creativity."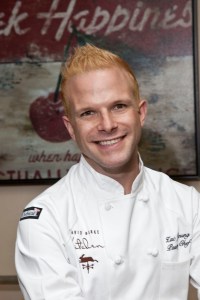 He went on, "So much of cooking is doing it. You gotta get in and try. We're not saving babies here, so if you burn it, you can always call for Chinese take-out"
Zac Young, executive pastry chef at the newly opened David Burke Fabrick, says the pastry world has a lot of "new, fun toys," like ovens that basically run themselves and ice cream freezers that use ionic beams to detect the perfect consistency.
He recognizes the exactness of such devices may not be as useful to most chefs, but says precision is the basis of pastry.
"The number one thing that they do for us more and more is eliminate human error," Mr. Young told Betabeat. "Sometimes, you work so hard to produce a fantastic product then someone fails to set the oven temperature correctly."
But while Mr.Young sees the benefits of smart cooking devices, he's aware of their drawbacks as well.
"I'm all for technology, but I don't think anything is ever going to replace a wonderful home cook at the stove" he said. "You don't develop the actual feel of cooking. So much of cooking relies on the other senses and intuition, so if you're just robotically following these recipes, you're not going to be able to step out of those boundaries and do something out of your own you imagination."
We asked Zahra Tangorra, owner and head chef of Brucie, if tech is welcome in the kitchen, to which she replied, "maybe as a guest star."
The Brooklyn chef says she's more of an old fashioned cook who feels cooking is done with "the heart and the hands." She also admits she's no tech whiz.
"I make that joke about technology that every time I get a new phone it lights on fire," Ms. Tangorra said.
When asked if she might incorporate smart devices into her kitchen in the near future, it seemed she wasn't too keen on the idea.
"I don't think so, not in my kitchen. Like I said, people loosely say, 'we cook like Italian grandmothers here,' but here, we really do. We use the 'a little bit of this and little bit of that' method. As I'm talking to you, I'm mixing meatballs, and I can tell what's right with my hand," she said.
Smart kitchen devices may not be her forte, but she sees their value and potential for home cooks.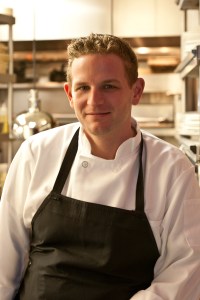 "I think anything that gets more people interested in cooking and food is a good thing," Ms. Tangorra said.
Chris Shea, executive chef at David Burke Kitchen, whose wife regularly uses a smart device to cook and puree baby food, feels similarly.
"They're excellent to use at home, but I haven't found a way to translate that into 200 to 300 diners," he told Betabeat.
When it comes to cooking for a restaurant, he claims "smart" doesn't always mean simple. Although the features of many of these devices revolve around temperature regulation, cook time and things of that sort, these are factors that can change from kitchen to kitchen.
"Every kitchen is different," Mr. Shea said. "Three on the same street in Manhattan will have different environments. One may be hot, one may be less humid because it's on whatever floor, and the products themselves are always different. Chickens are different sizes."
He said he's all for anything that makes cooking better, but gave a dubious "maybe" to the idea of incorporating smart devices. It seems he's still scarred from losing his last inventory iPad to the pot sink.
"But if they come out with any technology to make my feet hurt less at the end of the week, I'll take that one," Mr. Shea said.