Kids these days are always told by pre-Internet naysayers to be careful of what they put on social media, and often for good reason. In the past few years, Snapchat and its imitators have answered the problem of permanent records by destroying your messages after you send them. But what if there was a social network that destroyed everything you did?
A new app called Sobrr is an app that keeps you in the moment by constantly deleting your interactions. On Sobrr, everything except for your profile picture and name — the app is young enough that I was able to nab "Jack" — dissolves after 24 hours. Photos you share, statuses, messages in your inbox and even your friendships, unless you decide to renew them.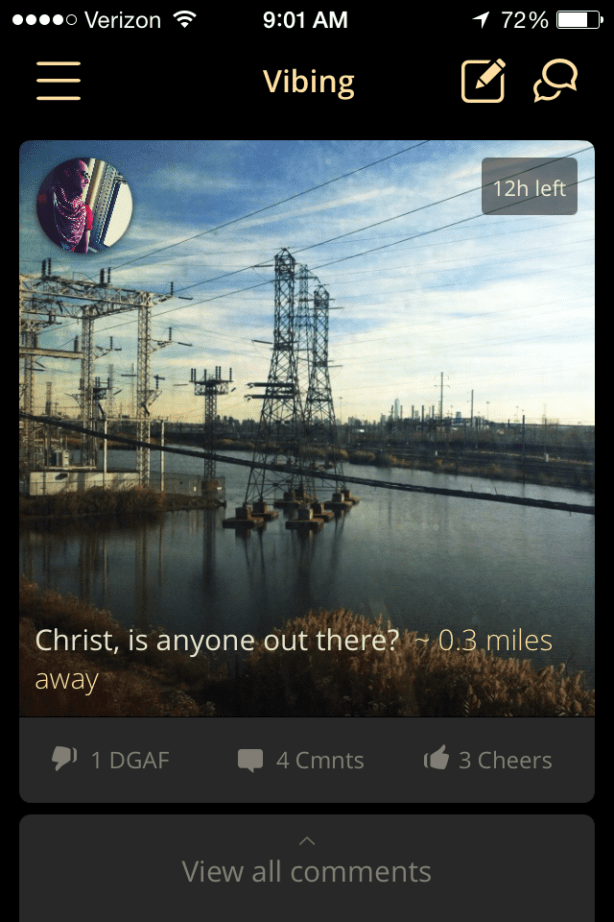 We decided to give Sobrr a try, and found that it's a kind of like a post-apocalyptic wasteland. You know others are out there, but there are so few, and even if you can find them, the connections are fleeting and mostly unhappy.
No one from my hundreds of personal contacts is on the app, so when I first downloaded it, it started spamming invites to people in my "area." After only about 20 or so invites, I ran out of people to friend within a 200-mile radius. It could be possible that Sobrr doesn't show everyone within that range, but I had the feeling that us 15 in the Northeast were, in fact, alone.
The first one I heard back from was Magicalbean, a college student bored and on vacation with her family. Next, I heard back from LiteDash, who was reluctant to say anything about herself at all. The conversations were stilted and mostly about the lack of others in the area.
"I hear there's a bunch of people using it down in Florida," someone told me. In a zombie apocalypse film, this would have been the part where I begin my journey with a scrappy crew to find the pocket of Floridian survivors. Alas, I stuck it out with the few of us using the app in NYC.
Eventually, I saw Bruce Yang (under username "Bruwski") wandering around among the few users, posting on people's vibings, providing a good amount of the shared content himself.
Mr. Yang is a coder who got the idea for Sobrr after his bachelor party put him in all-too-familiar situation of having to wipe away the previous night's embarrassing social media footprint.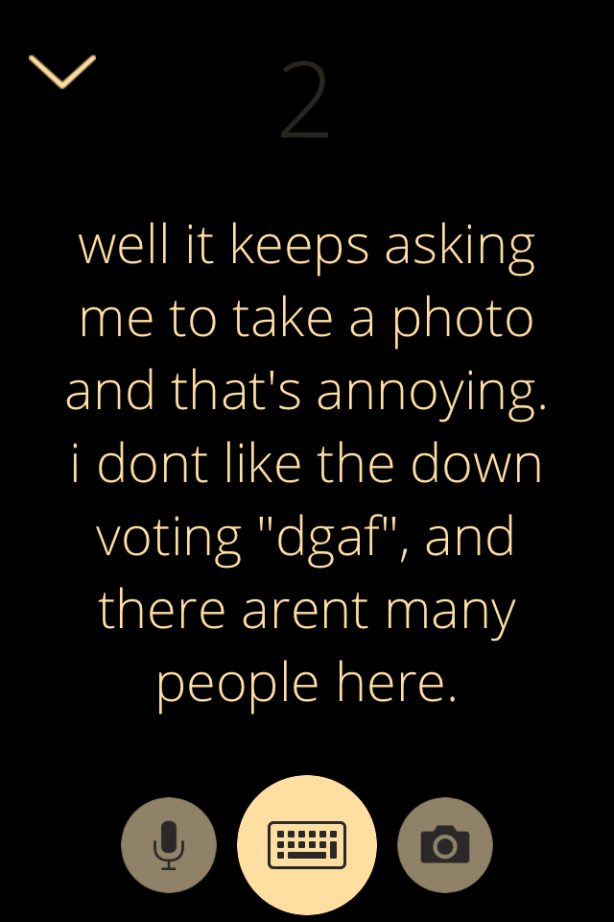 Mr. Yang helped build the app, but right now he's just trying to be a CEO, courting investors and managing his team of eight. The next step for Sobrr is to address the biggest complaint in his inbox each day: that the app isn't available on Android.
I ask Mr. Yang about the lack of users, and he says that things are getting much better. Venturebeat wrote about Sobrr last week, which got them enough attention to turn their hundreds of users into thousands, but Mr. Yang knows that getting more people on Sobrr is a huge priority.
Back on the app, I tried sharing some photos — on Sobrr, these are called "vibings," and they're like sending a 24 hour snap to your entire city. A few likes rolled in, but people can also swipe left on your vibings, which racks up "DGAFs." Almost every vibing I saw has more DGAFs than likes.
Mr. Yang initially included DGAFs because he saw so many people who wanted a "dislike" Facebook button, but DGAFs are really meant to encourage engagement. You have to either like or dislike something to get to the next piece of content — you can't just scroll mindlessly through like you would on Instagram.
"People on other networks scroll through their feed passively," Mr. Yang said, "and DGAFs give people active feedback about what everyone likes."
I found them to be kind of a downer, but maybe I'm just used to social networks where I can ignore those who ignore me, as opposed to having their ambivalence thrown in my face.
I asked LiteDash what she thinks of the app so far, and she said she might delete it. She also thought that the things that are meant to keep you engaged, like DGAFs and prompts to share content, were a downer. It's the great irony of Sobrr: it's meant to keep you in the moment, but highlights your isolation and sadness. It's less "YOLO" and more "When it comes down to it, we all die alone."
Toward the end of my second day on the app, I saw that my friendship with Magicalbean was going to expire. I clicked a small button that says "Keep" and asked her if she'll do the same, and she said she would. Was it going to work, or would some bug or crash like LiteDash had been complaining about pull her into oblivion?
"We'll see!" Magialbean said.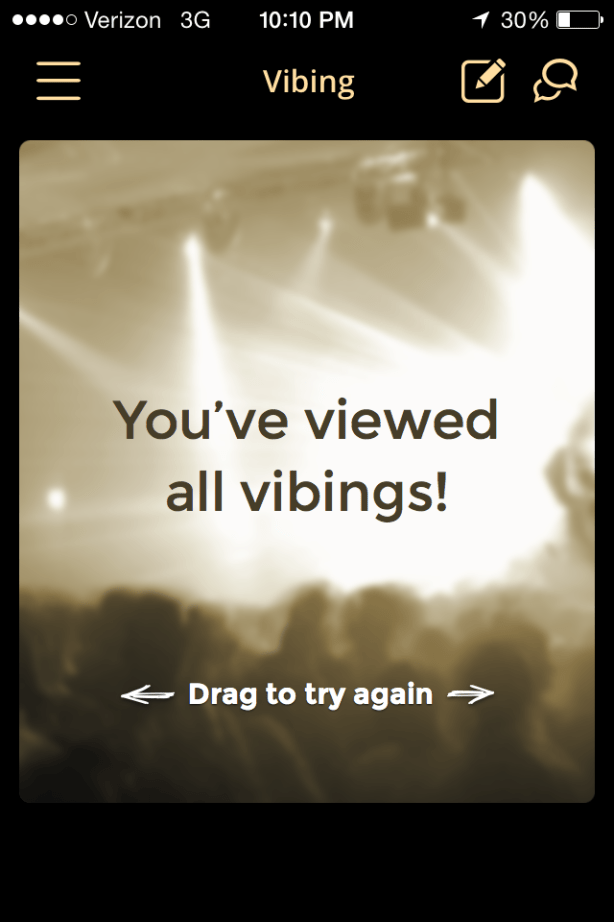 I woke up the next morning and looked at my Crew. There was Magicalbean, friendship still intact.
"We made it!" I sent.
"Hahaha, yep!" Magicalbean sent back.
The rest of my relationships dissolved, and LiteDash disappeared not just from my Crew, but completely. Guess she made good on her word to delete the app.
I keep putting out a couple more vibes a day — some likes, tons of DGAFs, almost no comments — and never heard from Magicalbean again. Every one in a while, someone from a hundred miles away sends a friend request.
"Is anyone out there?" I send.
For this article, all screen names of other users were changed for privacy reasons.