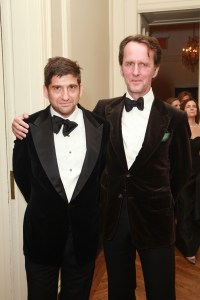 Tobias Meyer, who last year left his long-held post at Sotheby's as the auction house's principal auctioneer and global head of contemporary art, was known—and no-doubt prized by his employer—as an "expert at separating collectors from their millions." It was with considerable surprise, then, that the art world reacted to Mr. Meyer's departure announcement. But surely no one gasped at the revelation that he planned to maintain his presence in that rarefied sphere, on the paddle-holding side of the auction room as an adviser. "I like smelling other people's desire," Mr. Meyer once said—somewhat creepily. "A real collector gets a rush from buying something they want."
A pity that the buyers of Mr. Meyer's former apartment—a palatial spread at 25 Columbus Circle he shared until recently with his partner, art collector Mark Fletcher—did not want it badly enough to pay full fare. But when the final price is $16.22 million, one does not quibble too bitterly over a $700,000 discount.
The three-bedroom apartment once appeared in W magazine, and Messrs. Meyer and Fletcher clearly have better decorative sense than we do, but still, we have to guess that a partial reason for the price reduction, the result of one Margaux Properties LLC's bargaining, might have been the rather flamboyant interiors. Floors in multiple rooms are done in dizzy-making black-and-white stripes, a chromatic motif that creeps in at least one chamber onto the walls. While pillars in the great room are wrapped in bright, multicolored patterns reminiscent of undersea foliage. All that said, the condo has great potential for the less-vibrantly oriented.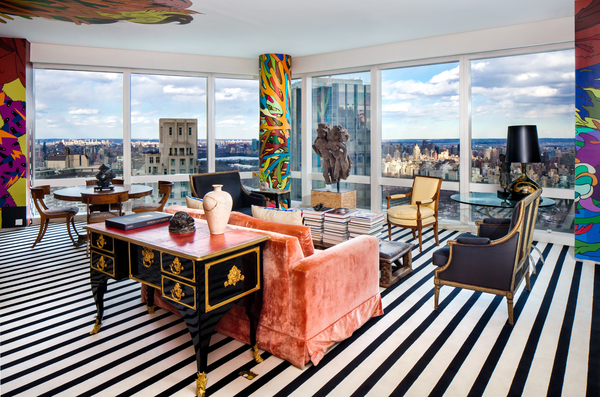 As in most any high-floor Time Warner Center unit, the views are tremendous and because of the apartment's generous size, various. An entry gallery opens onto the sprawling public portion of the home, the entertaining section of which is "almost square," according to the listing held by Deborah Grubman and David Dubin at Corcoran, affording "sensational" vistas of the Park. The apartment's private quarters stand sequestered on the unit's opposite side, separated from the hubbub of guests by an extended corridor.
And as for the place's unusual styling, well, Mr. Fletcher—whose own tastes run to John Currin and Urs Fischer—once gave a telling explanatory hint: "Today's superrich no longer imitate a pseudo-aristocratic lifestyle with horse prints on the wall. Now, you better have a Koons and a Hirst or you're going to look provincial."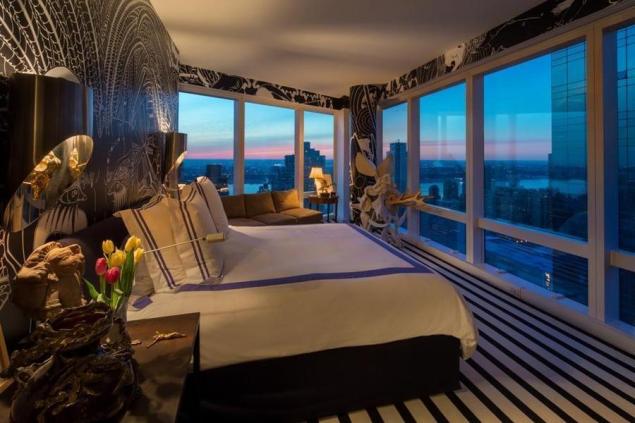 You hear that kids? A Koons and a Hirst. Or you won't look cool when your friends come over! Perhaps if Mr. Meyer has a spare moment, he can make some editorial recommendations for the prevailing hierarchies of value. But only after he's settled into his new place, of course.