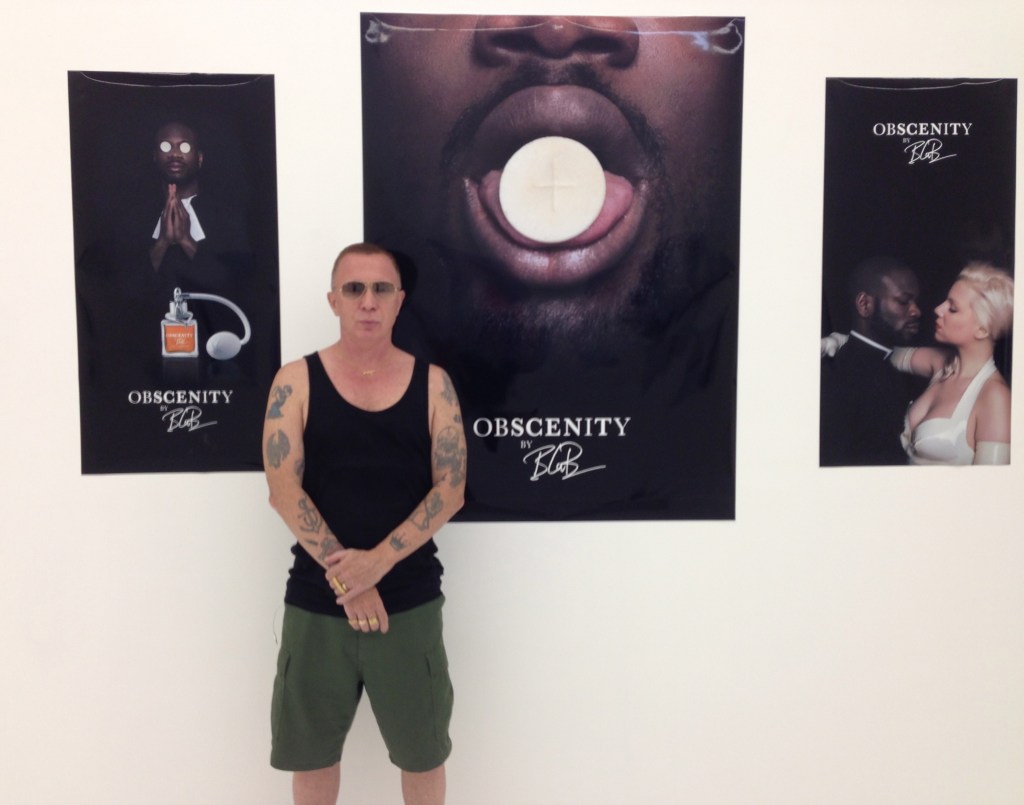 Bruce LaBruce calls himself "the reluctant pornographer." Since the early 80s, Mr. LaBruce, 50, has used art to explore tabooed fetishes from gerontophilia to zombie sex. His latest work is an exhibition of photography (and a short film) called "Obscenity," currently showing at The Hole gallery until August 20. The photographs act as an ad campaign for a limited-edition perfume Mr. LaBruce just released, also called "Obscenity," which is selling for $500.
Over the years, Mr. LaBruce has taken his art around the world, and several times his work has been seized by Canadian customs on his return home. The name "obscenity" references the letters Mr. LaBruce has received from customs informing him why his work was taken. The series of 20 photographs in "Obscenity" feature only two models–a man and a woman. Half of the pictures are an homage to Jack Nicholson and Ann-Margret in the 1971 film Carnal Knowledge. The rest consider the relationship between the religious and the sexual. A femme fatale wraps her limbs around a priest. A nun balances a holy wafer on her tongue. We met up with Mr. LaBruce at The Hole to talk about the show.
In 2012, you had an exhibition at Madrid's LaFresh gallery that was also called "Obscenity" and also examined the intimate ties between religion and sex. How is this "Obscenity" different?
In Madrid, the photos were more graphic, but still kind of toned down for me. There was some nudity (there were holy wafers on the woman's nipples, for example) but there was not any of what we'd call the pornographic aesthetic. People had strong reactions to it. Someone actually threw an explosive device into the gallery the night after the opening, but it didn't go off.
This is "Obscenity: The Perfume." The whole thing is retail performance art. It's a critique and satire of perfume ads, but it's also a serious ad campaign with a serious perfumer and a serious scent. I could have made it a stinky scent, but I preferred to make something more like a luxury item or more beautiful. Obscenity comes from the word filth but, with my experience going through customs, I've learned that one man's obscenity is another man's sexy.
Why bring in the religious facet?
I've always seen something sacred in the sexual. Even in my pornographic films, there's always an interest in the sacred versus the profane. And then I guess I just had a realization that there's this moment of intersection between spiritual ecstasy and sexual ecstasy. For example, in this photograph of the priest in ecstasy–is it religious or is it sexual? It's not clear. I just don't see how they could be antagonistic towards one another.
How does this exhibition embody "retail performance?"
I could have made it a gay show, but I made it heterosexual, which is more typical of a mainstream ad campaign. At the same time, it's an interracial couple, which is still not common in mainstream advertising, and then to add the religious aspect is something you would never see. So it's subversive, but it's meant to be subtly subversive, to the point where people might not even notice how subversive the images actually are.
There seem to be some hints of violence. Was that meant to be one of those subtle subversive elements?
I wanted to make it a little disturbing. Some of the hints of violence are meant to be a comment on the way women are used in the media. I come from a very feminist background, so on the one hand I don't think there's anything wrong with rough sex (and it definitely undercuts the idea of a super commercial ad) but it's a fine line. There are issues with dominance and submission and that is something that I've tried to acknowledge and explore. Sex is complicated. It's one of the reasons I picked pornographic work in the first place, because porn is the place where people work out these dark fantasies through a kind of catharsis.
Speaking of your pornographic work, this show seems more tame than much of your previous work. Is there a reason for that?
Lately, I've been exploring a more mainstream kind of aesthetic for talking about sexuality. This is still about a taboo; as an artist I find you should want to go to that place where you're not supposed to go. But here, it's handled in a more gentle way, in a way that is more accessible. I just felt like I had explored the pornographic a lot. So, bringing in the religious element is a new twist for me. Who knows? Maybe I'll end up a monk.