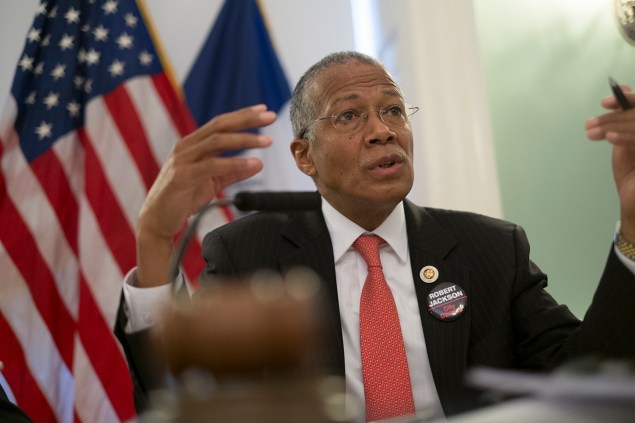 The Advance Group has said it did not use information from other campaigns for its Anybody But Quinn push–but the consulting firm has now reimbursed 2013 Manhattan borough president candidate Robert Jackson's campaign for using his database, sources told the Observer.
The leading campaigning and lobbying group voluntarily sent a check to Mr. Jackson's unsuccessful borough president operation, two sources said, shortly after the Observer reported last month that the group had drawn information from his Voter Activation Network–a repository of voter addresses, ages, and registrations–and used it for the anti-Christine Quinn effort. The effort to sink Ms. Quinn's mayoral bid was largely funded by the anti-horse carriage group New Yorkers for Clean Livable and Safe Streets.
A whistleblower from ABQ furnished the Observer with documents last month indicating that the ABQ campaign's canvassers went door-to-door with VAN "turf packets" that had Mr. Jackson's name — along with the names of Councilwoman Laurie Cumbo's and candidate Robert Waterman — clearly printed on them.
A source close to Mr. Jackson's campaign said that the Advance Group's internal information exchange–using Mr. Jackson's database for another campaign they were running–was a breach of contract, as the ex-Manhattan councilman's agreement with Advance specified that his resources could only go toward getting him elected.
"They illegally and unethically used the VAN we paid for and gave it to other clients," the source close to the campaign said.
The Advance Group–already under fire for failing to disentangle other NYCLASS-financed expenditures from the City Council campaigns it ran last year–claimed to the Observer in June that it had only shared publicly available databases, and not proprietary information. The firm stood by the statement when questioned again, and refused to issue further comment.
But the refund to Mr. Jackson's campaign, which the source close to Mr. Jackson said could only be for the use of the VAN, would appear to fly in the face of that assertion.
The source close to Mr. Jackson's operation said that the Advance Group also low-balled the reimbursement, writing a check for less than $400 while the campaign had shelled out $13,250 for the VAN system. But the insider said he knew of no plan to pursue the Advance Group legally for further restitution.
"It was completely based on their own internal calculations for what they thought was the cost of their use of it was," the source said. "VAN is expensive."
Neither Ms. Cumbo nor Mr. Waterman have not yet received any reimbursement, a different source told the Observer. Their camps did not immediately respond to a request for comment.
The Campaign Finance Board declined to comment.
Mr. Jackson is now seeking the seat of Manhattan State Senator Adriano Espaillat.