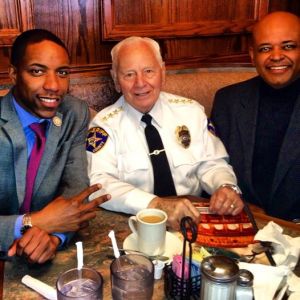 ELIZABETH – Union County Democratic politics is poised for a shift following the death of Union County Sheriff Ralph Froehlich on Sunday. Following the passing of Froehlich, who had served as sheriff since 1977 and was a respected long-time law enforcement fixture in Union, state Assemblyman Joe Cryan (D-20), who long fulfilled the role of a Union County undersheriff, became the acting sheriff.
Now poised to succeed Froehlich, Cryan is poised to appear on the November ballot to run to fill the remainder of the late sheriff's term, which expires in 2016. This move by Cryan, a former state Democratic Party Chairman and a member of the Assembly Budget Committee, would obligate him to give up his 20th Legislative District Assembly seat in the event that he wins in November, setting up an internal party contest to succeed Cryan in the Legislature.
While several names have emerged as contenders for the seat, including Union County Freeholder Mohamed S. Jalloh of Union, Hillside Mayor Angela Garretson and Elizabeth Councilwoman Patricia Perkins-Auguste, sources told PolitickerNJ.com on Wednesday that one name is emerging as a potential champion in a fight to replace Cryan: Roselle Mayor Jamel Holley.
Several Union County Democratic sources maintain that the Union County Democratic Party committee members from Elizabeth, Roselle and Hillside are now behind Holley if he wants the Assembly seat. Sources also indicated that state Assemblyman Jerry Green (D-22), who also serves as the Union County Democratic chairman, also backs Holley.
"[Elizabeth Mayor] Chris Bollwage is behind Jamel, and certainly so is Roselle," said one Union County Democratic source. "Elizabeth and Roselle being together makes it very difficult for anyone else to overcome those numbers. One decisive factor is that it can't be someone from Elizabeth, because [state Sen. Ray Lesniak and state Assemblywoman Annette Quijano] are already from Elizabeth.
"Hillside is unsure. There are all kind of different factions there," the source added, noting that some committee members have loyalties to Charlotte DeFilippo, the Hillside Democratic chairwoman and former longtime chair of the Union County Democrats, while others are closer to the recently-elected Garretson. "But certainly Elizabeth and Roselle are with Holley."
"Hillside is weird, but as a whole, Hillside is with Holley," said another Union County Democratic source. "I don't know if Angela Garretson is 100 percent behind Holley or not, but it is the [Hillside] Democratic committee who will decide who they are supporting, and she doesn't control the committee."
A third Union County Democratic source, however, pointed out a key procedural fact that directly affects the shifting situation regarding who will succeed Cryan.
"The elected rock stars can say whatever they want, but there is a secret ballot committee vote of all of the committee members in the district. There is not a coronation here. There's a process," the source said. "People can lobby votes, but it's still a secret ballot. There are about 130 to 140 votes out of Elizabeth, Union has 90, Roselle has 39 and Hillside has 26. When you get in that room, anything can happen.
"Another piece of this is when the vote is going to happen," the third source added. "When does the vacancy occur? Is it now, because Cryan is the acting sheriff? Is it when there is an election for sheriff? Or is it when somebody is sworn in as sheriff? So the vote could be now, it could be November, or it could be January. It's chaos, and it could go on for a long time."
Garretson did not immediately return a phone call seeking comment.
"Anyone talking about replacement politics for a position that wouldn't be open until November is quite frankly shameful," said a Union County Democratic source close to Cryan. "There is a time and place for everything, and that time is after Sheriff Froehlich is laid to rest. And that place is certainly not anonymous quotes on a political website. Assemblyman Cryan has not told me about his political future, because he's not concerned with it right now. He's just lost a friend and he's focused on that."
"This is a time of mourning for a great man who meant so much to so many people, including Mayor Holley," said Phil Swibinski, Holley's spokesman. "It is not a time for politics, and that is the furthest thing from Jamel's mind right now."